If colorful RGB lighting effects are not enough for you, Corsair will in future also be able to display your favorite GIF on the CPU cooler. The all-in-one water coolers of the iCUE Elite LCD series have a small display that also shows system parameters such as fan speed or CPU temperature.
Mini-LCD for the pump head
The "Dashboard" is the new gimmick of the iCUE Elite LCD cooler series. This is an IPS-LCD with a diagonal of 2.1 inches, which sits directly on the CPU heat sink with an integrated water pump. In the case of a housing with a window, the mini-display comes into its own in the center. The comparatively high brightness of the background lighting of 600 cd/m² also helps. The resolution is 480 × 480 pixels and the color depth is 24 bits (8 bits per RGB channel). Content should be displayed with 30 FPS.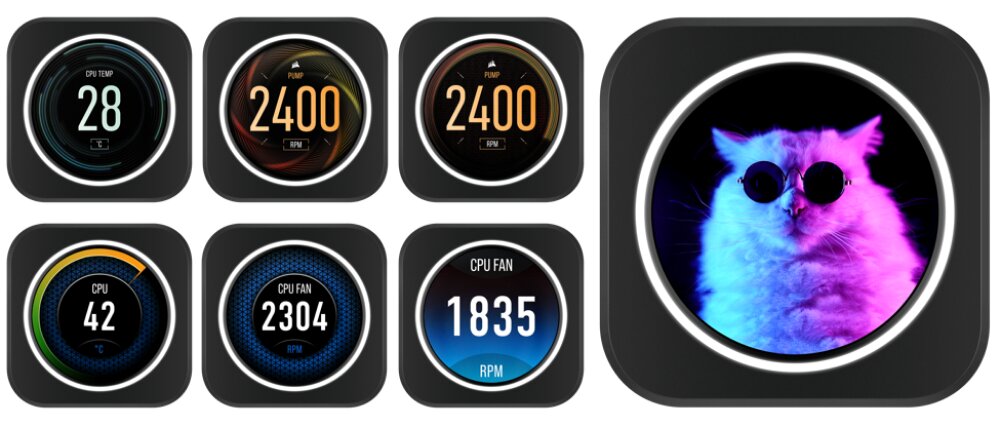 Corsair primarily shows various options for outputting system information such as the CPU temperature or the fan speed. The small display should also be able to output images, animated graphics in GIF format or even videos. A ring of 24 individually controllable RGB LEDs around the display, which can be programmed using iCUE software, provides additional stimuli.
The fans of the ML RGB ELITE series with magnetic levitation bearings on the radiator are of course also provided with individually configurable lighting. If desired, the play of light can be harmonized with other components of the iCUE ecosystem from Corsair.