With the announcement of the Nanoleaf Elements in wood look, Nanoleaf had already indicated a new product series with the name "Lines", today the presentation of the smart LED light strips with indirect lighting follows.
Two colors per lightbar, dynamic scenes
Like the LED panels Shapes and Canvas, the lines are also modular and able to change their color. Each light bar has two color zones that can shine in different colors separately from each other. The transition between different colors is fluid. The user can choose from 19 dynamic light scenes and seven rhythm scenes for music visualization in real time. A scene generator in the Nanoleaf app allows you to create your own light scenes, whereby 16 million colors can be selected using the color wheel, a color regulator or a hex code.
Also the Nanoleaf Lines support the screen mirror function, which mirrors the colors and animations of the PC screen onto the lines. There are four different modes to choose from, for example for games and films.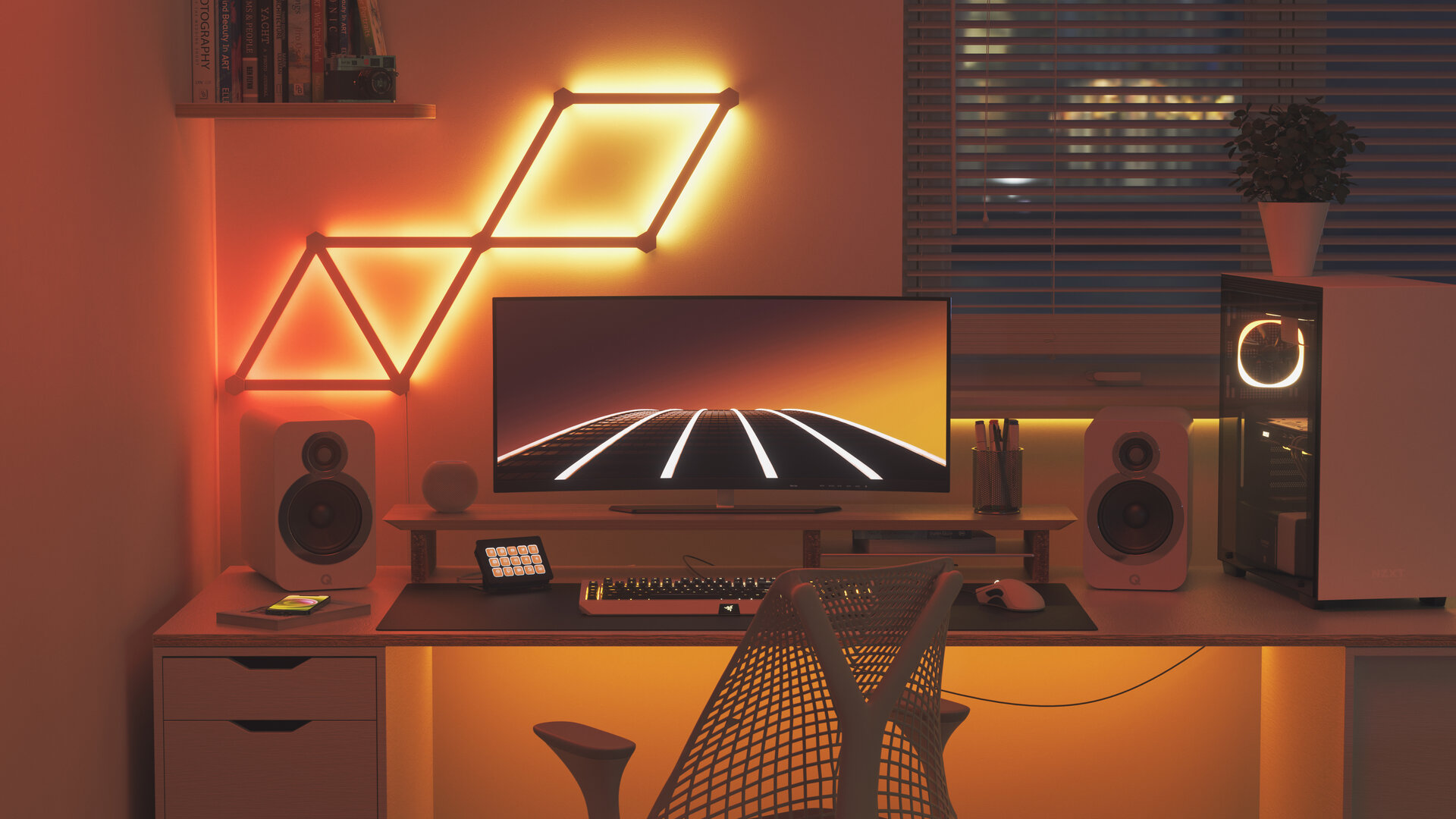 Installation at a 60-degree angle
The mounting plates of the lines are integrated in each mounting connector, via which the light strips can be arranged and connected to geometric shapes at 60-degree angles.
Thread and Matter
The Nanoleaf Lines expand the thread ecosystem and act as thread border routers for the Nanoleaf Essentials lights and light strips to enable a faster and more reliable connection. As soon as the LED light strips are paired with the Nanoleaf app, the Essentials devices automatically connect to a thread network. The Nanoleaf Lines were also developed taking the upcoming Matter smart home standard into account and will support the new standard via a software update next year.
Control via app, language and control unit
Nanoleaf Lines can be controlled via the Nanoleaf app, voice commands and manually via the control unit. The light strips are compatible with Apple HomeKit, Google Assistant, Amazon Alexa and Samsung SmartThings and have an IFTTT integration.
9 lines cost 200 euros
The Nanoleaf Lines can now be pre-ordered from Nanoleaf. The products will also be available in the Bauhaus from the end of November. The Nanoleaf Lines Starter Kit 9 pack costs 199.99 euros, the Nanoleaf Lines Starter Kit 15 pack costs 299.99 euros and the Nanoleaf Lines Expansion 3 pack costs 59.99 euros. Delivery is scheduled to start at the end of November. Only then will the lines be found in the Android version of the Nanoleaf app, while they will be integrated in the iOS app from mid-October.
From January In 2022, with Lines Skins in pink and black, front panels will be offered that can be placed on the light strips.