Our first impression of the Apple Watch Series 7
Apple improves its products every year and the Apple Watch Series 7 is a typical example of this. Compared to the previous generation, not much has changed, but if you come from an older model, the Series 7 is an attractive upgrade with a larger and brighter screen, less chance of glass breakage and faster charging. But maybe the Apple Watch SE also suits you. In this first impression, we tell you what's good and bad about the Apple Watch Series 7 and whether the larger screen is worth it.
Text, photos and first experiences: Gonny van der Zwaag (@gonny). We tested with a green Apple Watch Series 7 with a sport band in the color Clover/Clover. These were borrowed from Apple and made available for this test before the official release.
Apple Watch Series 7 in brief
Apple does not have to act as market leader little to worry about the Apple Watch: this is the best-selling smartwatch and it's easy to keep users happy by making it a little better every year. This has been updated compared to last year:
Case sizes 41mm and 45mm
Choice of 5 aluminum colors
IP6X dust resistant

< li>5ATM waterproof up to 50 meters

Screen 20% larger than Series 4 to 6 and 50% larger than Series 3
Fit existing Apple Watch bands
Dust resistant with IP6X rating
More break-resistant , but aluminum models still not with sapphire crystal


To emphasize the green of the Apple Watch even more, you can set the new green dial. Can also be used in other colors.
Appearance: lots of color
You can choose from five aluminum colors this year. We have tested the green copy. This color is reminiscent of the midnight green of the iPhone 11 Pro, a highly sought after 'special' colour. Unfortunately, you cannot purchase a matching iPhone 13 and that is a shame. We would have liked to see Apple harmonize the devices and accessories a little more. Combinations are possible with all other colors from the line-up: for example, you can combine the blue Apple Watch with a blue iPhone 13. There is mainly overlap with the colors of the 'ordinary' iPhone. As a Pro user, I solved this by buying a silicone case in the same color with my Clover band.
We took a look at the different colors in the Apple Store, because for many people color choice is also an important issue. If you are looking for more neutral colours, you can no longer choose from the familiar silver and space grey/graphite/black this year. Maybe it was time for something new. With the Series 7 you can choose from blue-black (Ink blue/Midnight), a champagne color (Starlight), very dark green, medium blue and bright red. Last year we already noticed that the striking colors may look nice, but they are not easy to combine with straps.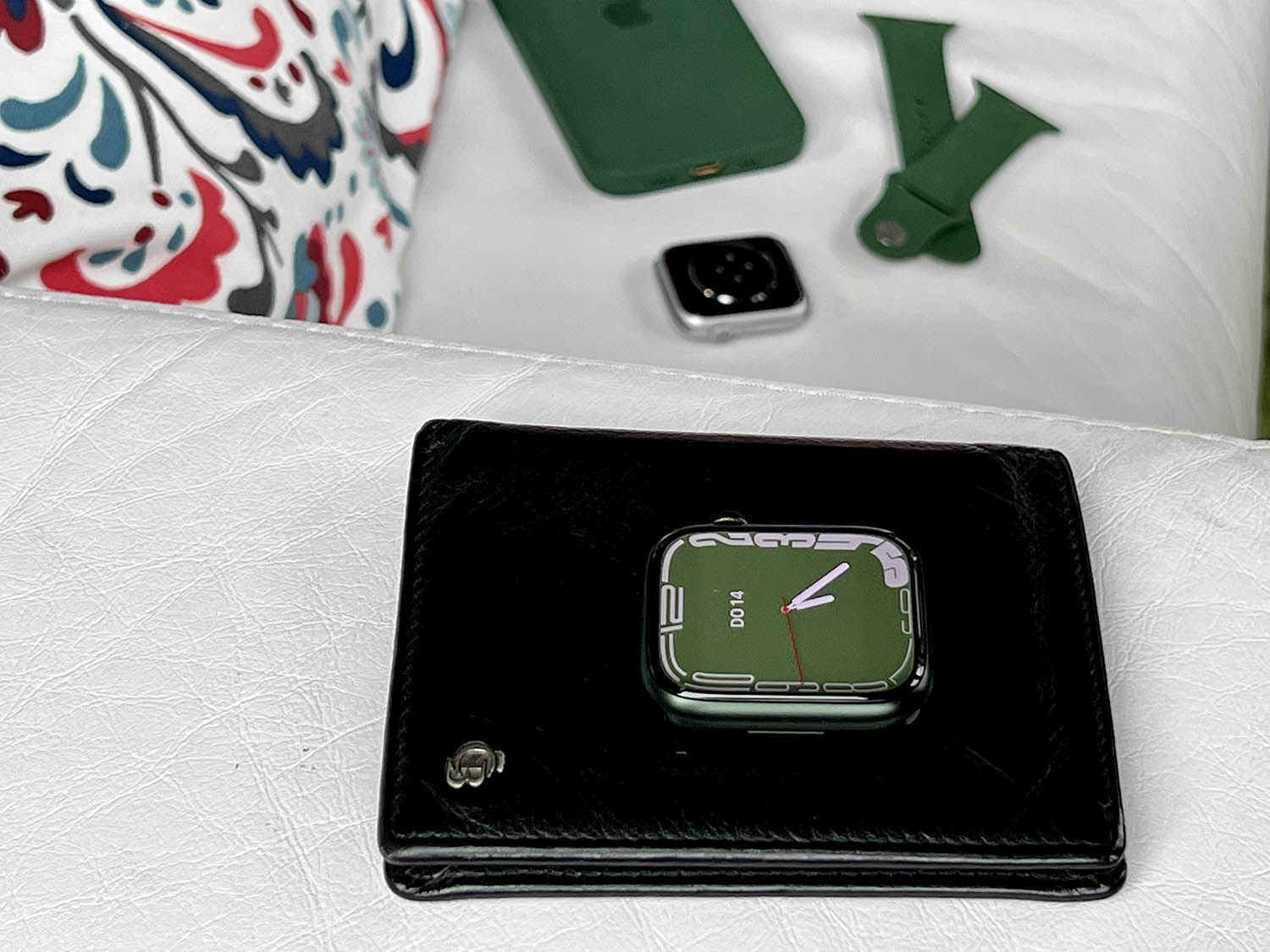 The green Apple Watch on a black background. In combination with black, the subtle difference is clearly visible. Usually the watch appears almost black.
It is often more practical to choose a neutral watch case and leave the bright color accents to the watch straps. In itself you could get along well with green and blue-black. In everyday use, these colors can hardly be distinguished from black; only in bright sunlight you can clearly see the colors dark green and dark blue. We are therefore happy with the green test sample, because with it you can get along well in terms of straps. Above you see the green Apple Watch on a black wallet and then there is a clear difference.
The two more pronounced colors are red and blue. Previously, the PRODUCT(RED) Apple Watch tended to orange-red, now it's pure red. Blue is slightly lighter in color this year and in our opinion the least useful color to combine.
Whether the steel and titanium variants will also be available in the Netherlands is highly questionable. The communication around the 4G Apple Watch has been very chaotic so far, so we can only say something meaningful about them when they are actually in the store.
In terms of overall design, the Apple Watch Series 7 is very similar to its predecessor. It makes a difference of 1 millimeter, something you hardly notice at first glance. It is immediately noticeable that the screen extends further to the edges and can even be read from the side. Apple has made a special watch face for it, which seems to be mainly intended for the 'edge event' of the screen, but otherwise of no practical use. The elongated numbers are hard to read. In addition, there is a Modular Duo dial, which is also only available on the Series 7.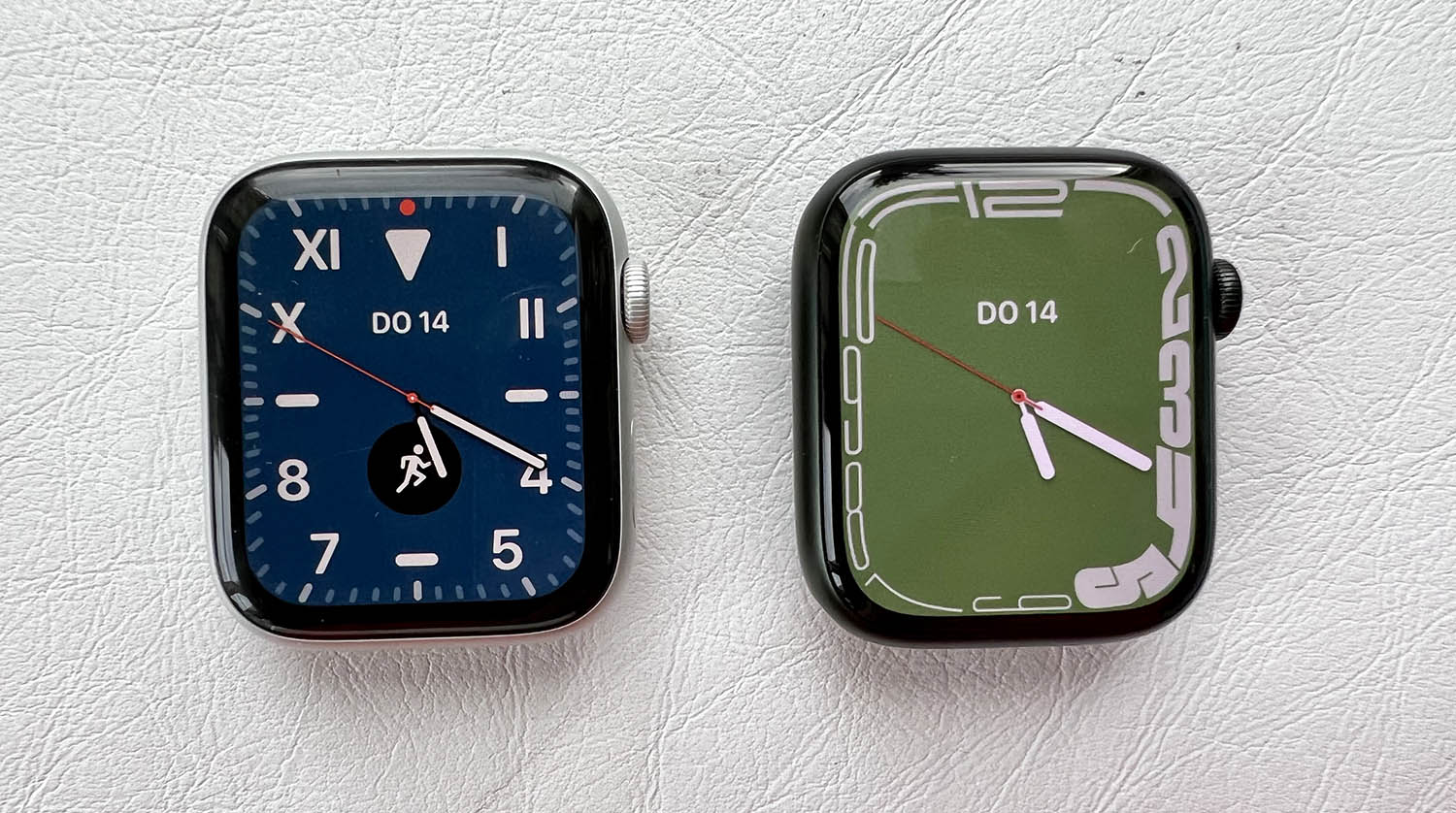 The Apple Watch Series 6 in silver next to an Apple Watch Series 7. The screen on the new model is slightly larger, but the difference is now not shocking either.
The Digital Crown, side button and back have remained the same, and so have the straps. We're glad you can still use all your favorite 2015 tapes. The way of confirming is satisfactory and does not require an upgrade.
Of course you can choose Nike+, Edition and Hermès variants again this year, although you will have to get them abroad because of the 4G function that is standard on it. Ultimately, there is quite a bit of choice, so you don't have to walk around with the same Apple Watch as the neighbor. Especially since there are now more than 500 watch bands available.


The same connection for watch straps and in fact also largely the same design for the case. Existing bands therefore fit effortlessly.
The Apple Watch Series 7 is now IP6X dust resistant and can survive a dive into the water to a depth of 50 meters. It's not that the previous models weren't dust resistant, but it's the first time Apple has actually had it measured and can assign a value to it.
The glass has also become thicker, stronger and more resistant to breakage. However, if you want sapphire glass, you are still dependent on the considerably more expensive models made of steel and titanium.
Screen: more info on your wrist
Everything revolves around the larger screen, which is also brighter. That 70% improved brightness only applies if the screen is dimmed while using always-on. It ensures that you can better read your screen, without lifting your arm. Unfortunately, you can't adjust the brightness: always-on is now relatively bright, or completely turned off. There is no middle ground. The screen technology is still LTPO OLED with Retina resolution and the pixel density has also remained the same.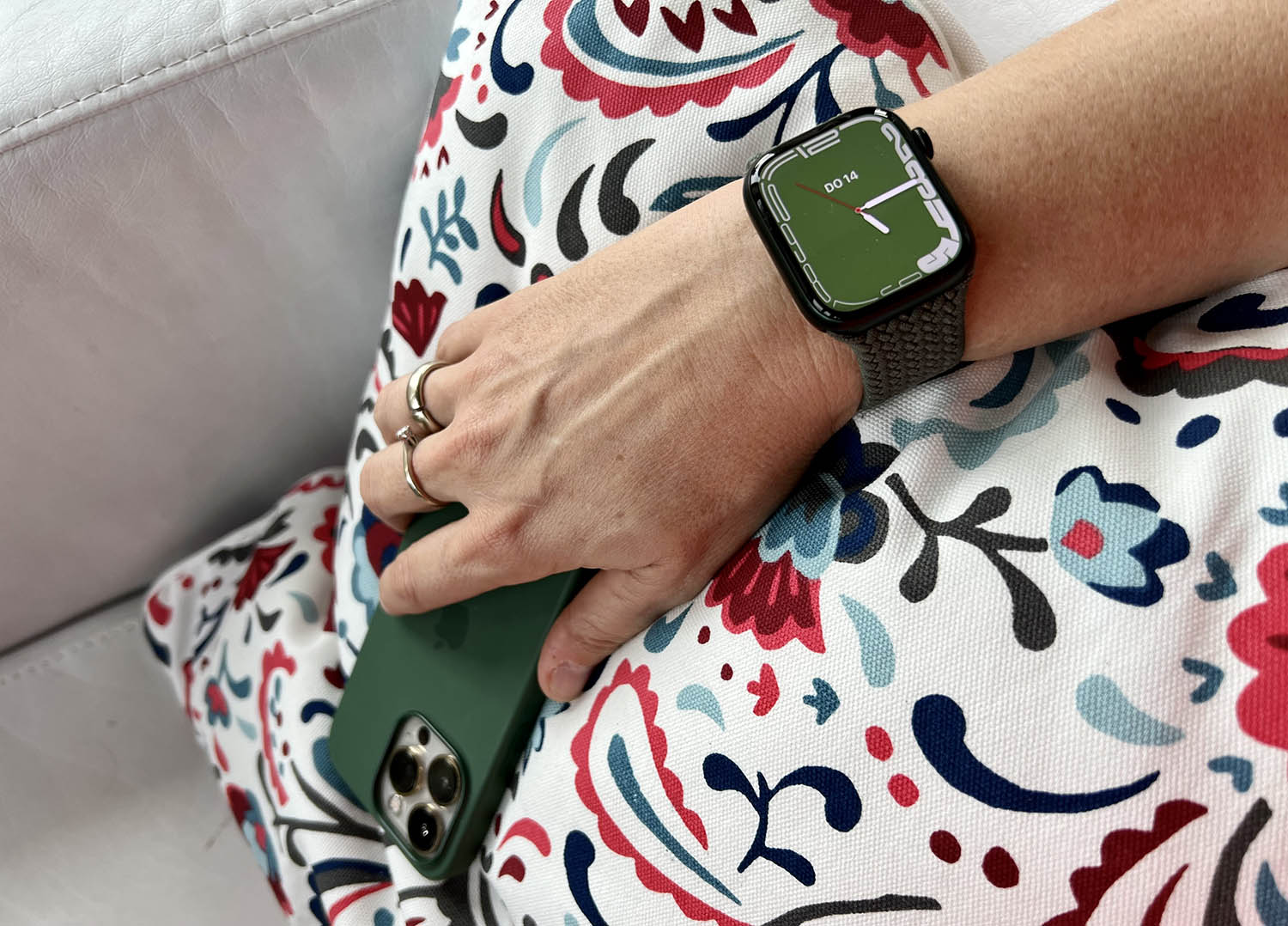 Fortunately, the rather expensive braided Sololoops still fit. This one in green was available last season and only from Apple.
Apple has again performed a well-known trick to make the screen larger, namely by making the bezel around the screen smaller. The larger screen is something that immediately stands out: more information visibly fits on the screen, especially text. This suddenly makes the screen attractive for reading Wikipedia articles or playing a game (two of my favorite activities in a queue). Especially if you had a Series 3 or older, the screen is now huge and fills your entire wrist. People who are a bit in between in size might even consider going for the smaller 41mm model this year. If you have a Series 4 or newer, you will notice that the buttons are larger, making them easier to operate.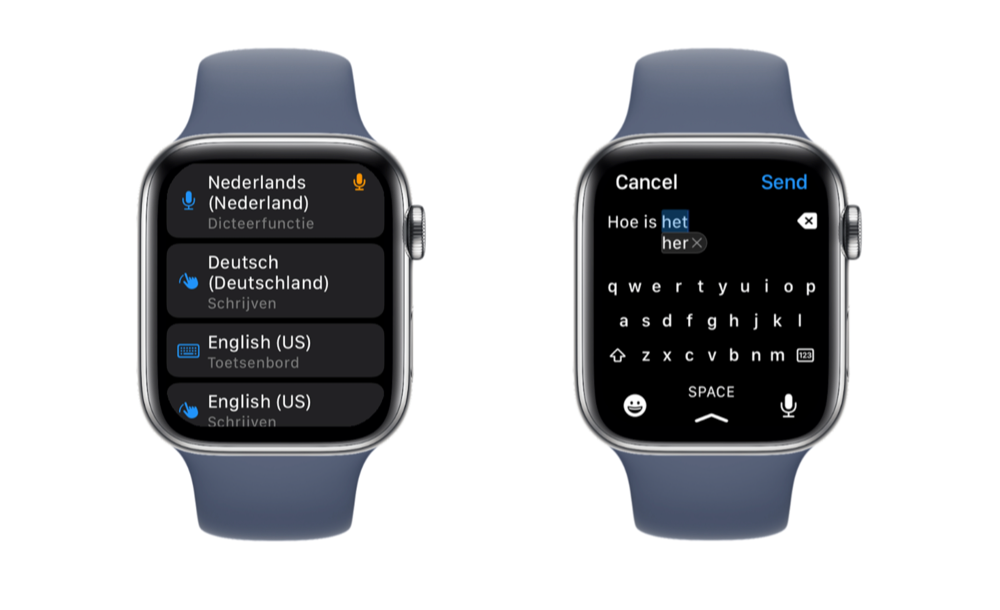 One of the biggest innovations that makes the larger screen possible is that there is now a QWERTY on-screen keyboard, although this unfortunately does not work in Dutch. Based on previous experiences with keyboard functions on the iPhone, it could take a few years before it is also adapted for Dutch.
Apple Watch Series 7 hardware
At this point we can be brief: nothing has changed in the sensors, battery life and other hardware. Apple has put a newer S7 SiP (System in Package) in it, but it contains the same S6 chip from last year, supplemented with some renewed components to control the screen, for example. It doesn't provide any new features.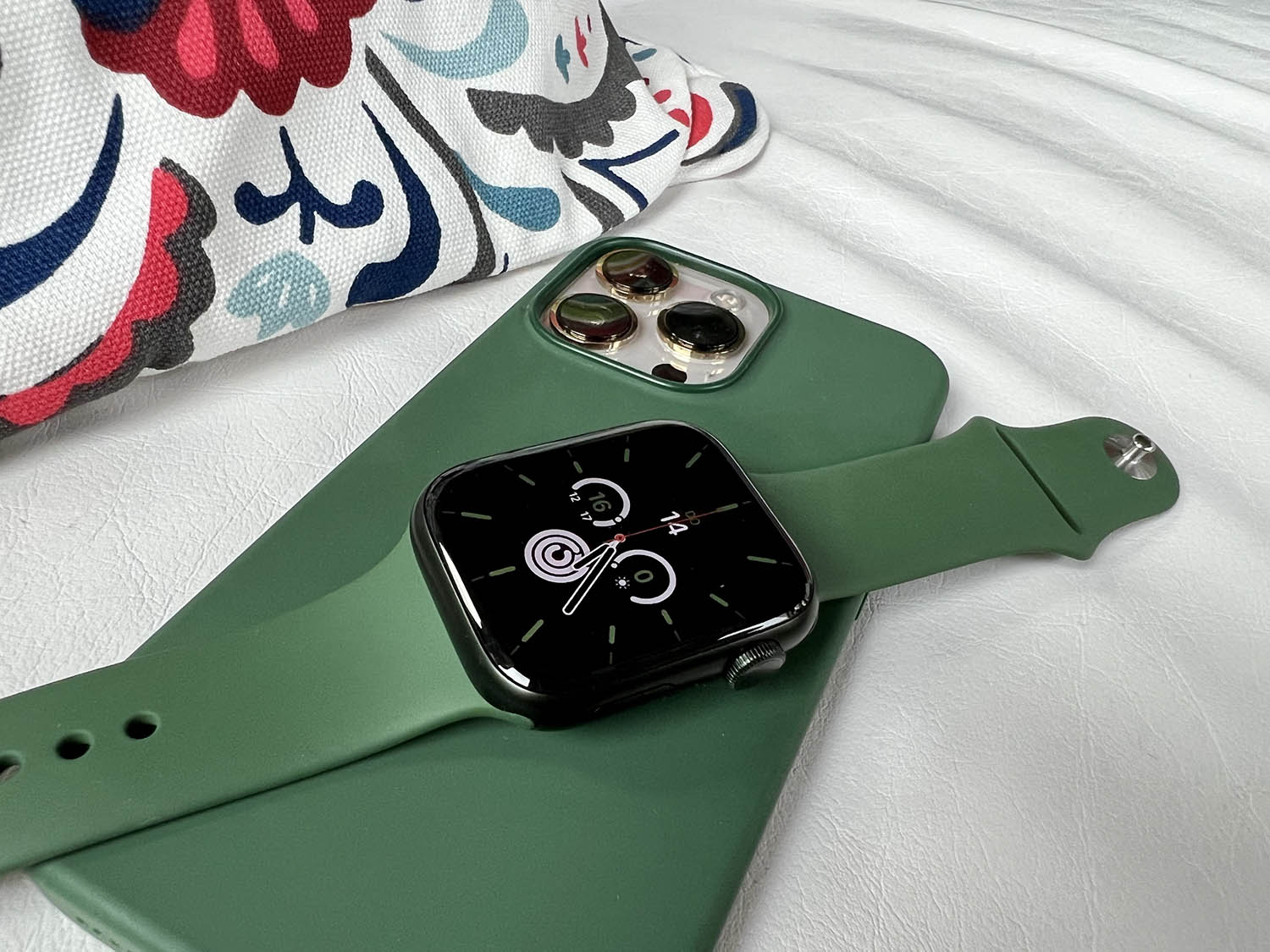 You can set almost any clock face in Clover/Clover variant.
The sensors are otherwise the same: a heart rate monitor, always-on altimeter, compass, EKG, blood oxygen, fall detection, GPS, Bluetooth, Wi-Fi, U1 chip. Looking at the list like that, I understand why Apple released the Apple Watch SE: many of these sensors and features are nice-to-haves, but not really necessary for most people. With what's in the Apple Watch SE you can cover 95% of the user experience. After having walked around with the top models for a number of years, we notice that you need very little health functions such as EKG and fall detection. If you have fragile health or want more peace of mind, such features can be useful. A Series 7 costs €130 extra and with that you have a larger always-on screen and the certainty that you really have everything. With smartphones, the price difference between entry-level model and top model is much greater. Do you want to know exactly what the differences between Apple Watch Series 7 vs Apple Watch SE are? Then read our comparison.
The U1 chip for Ultra Wideband may come in handy in the future to locate stuff, but it has little added value at the moment. You could eventually replace your car keys and house keys with your Apple Watch.
Battery: 33% faster charging
You can now charge the Apple Watch faster, thanks to the new charging puck with USB-C connection. This is useful for people who want to wear the Apple Watch at night. If you are used to putting the Apple Watch on the charger every night, this does not add much.


I was worried that the 45mm might be a bit big on my (women's) wrist, but in fact it doesn't look much bigger than the Series 4 to 6.
There is a big disclaimer about the fast charging: it only works with the Series 7 and only if you use the supplied fast charger. So it makes no sense to buy the magnetic fast charger with usb-c for €35 if you have an earlier model.
A plus is that the charging puck is now made of aluminum, instead of plastic. That looks slightly more luxurious.
The battery life has remained the same at 18 hours. Most people will charge their Apple Watch overnight, and if you do some exercise during the day or take a long walk, you'll be sure to make it through the day.
Conclusion first impression Apple Watch Series 7
The past Apple Watch updates may not have been a reason to update right away, if you had an older model. The Series 7 has that reason: you get all the innovations of recent years, plus a larger screen, fast charging and more. At the same time, I can understand that there are also many people who want to wait a little longer: either for the illustrious 4G version that finally seems to be coming, or the Apple Watch Series 8, which is rumored to get new sensors.
< p>However, the Apple Watch Series 7 is a great purchase for those who need a new Apple Watch now or are purchasing one for the first time. If you don't need the extra health features, you could also take the Apple Watch SE, which is £130 cheaper. I especially recommend people with an Apple Watch Series 3 to take a look at the Series 7, because you really improve by leaps and bounds, also in terms of additional health functions. The screen is 50% larger and you really notice that. And since Apple still has the Series 3 in its range, your used smartwatch still yields enough to soften the purchase price. When upgrading from Series 4 to 6, the larger screen is less noticeable.
Looking at the competition makes little sense. The Apple Watch is the best smartwatch you can get, especially as an Apple user. There is nothing that comes close in terms of ease of use and possibilities.
In addition to this first impression, we will also write a more extensive review about the Apple Watch Series 7. Do you have any questions, suggestions or additions? Let them know in the comments!
Still unsure about what to choose? Then read our comparisons:
Apple Watch Series 7 vs Apple Watch Series 6
Apple Watch Series 4 vs Apple Watch Series 7
Apple Watch Series 7 vs Apple Watch SE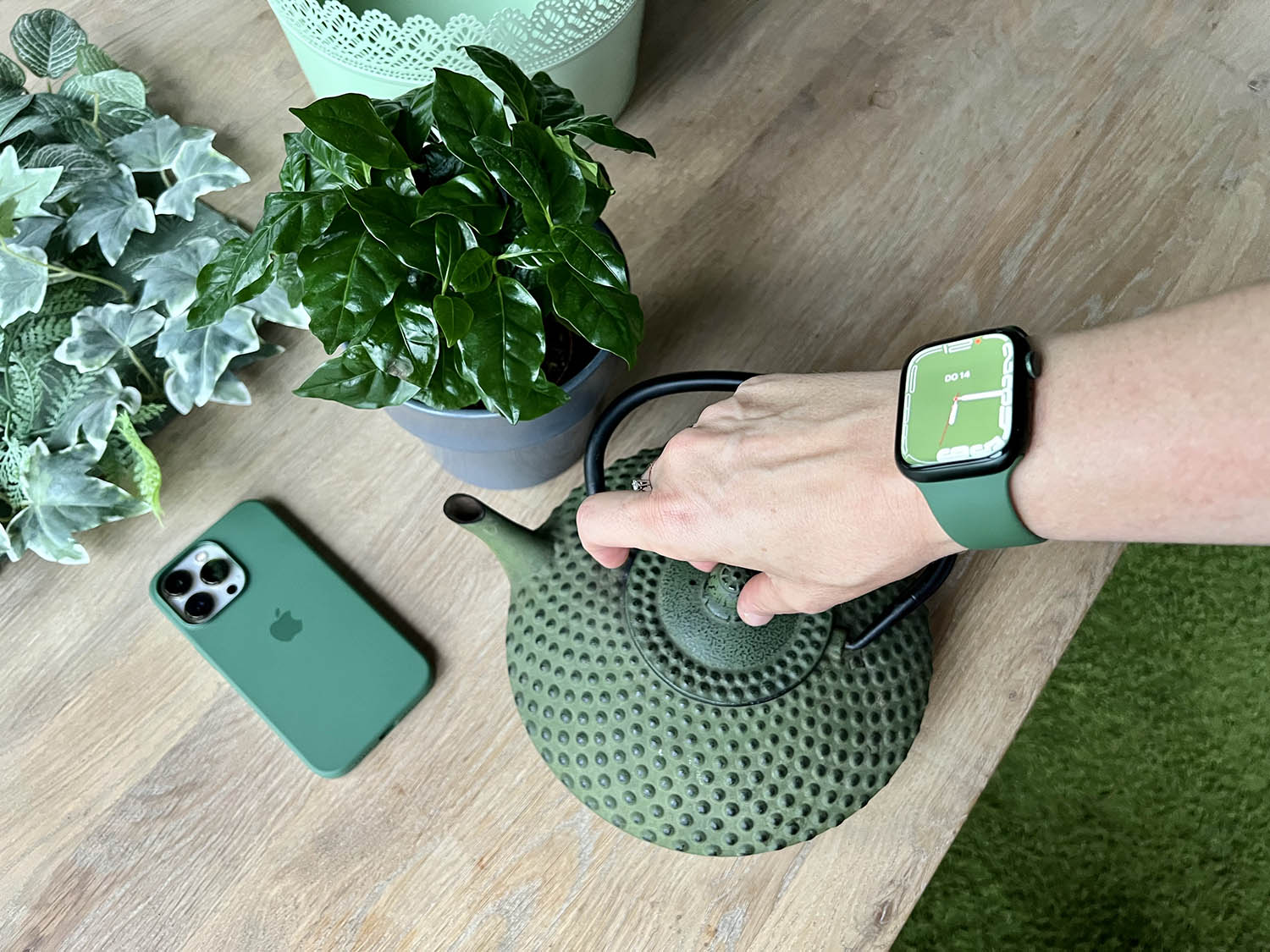 For lovers of green, the color may not be pronounced green enough. Fortunately, Apple sells matching accessories in the color Clover/Clover. The same color as the band that comes with it.
Buy Apple Watch Series 7
Dutch suggested retail prices Apple Watch Series 7:
41mm: from €429 ,-
45mm: from €459,-
See other stores:
Amac
Coolblue
Bol.com
Belsimpel
Apple Watch Series 7 in 41mm
Midnight
Starlight
Green
Blue
Red
< p>
Apple Watch Series 7 in 45mm
Midnight
Starlight
Green
Blue
Red