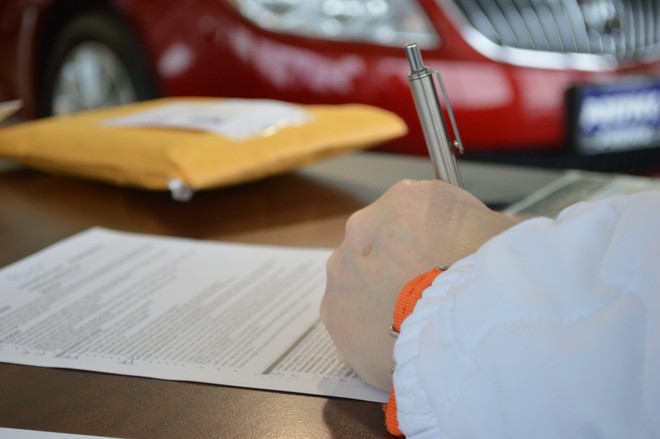 The European auto market continues to show signs of great difficulty. According to the data communicated by ACEA, the European association of car manufacturers, in September 2021 there were 718,598 registrations at the European Union level . This is a 23.1% drop compared to 2020 when there were 934,039 registrations. Wanting to make a comparison also with 2019, the data is; always negative as 906,197 cars were registered two years ago.
Returning to the 2021 data, also considering the United Kingdom and the EFTA countries, there were a total of 972,723 registrations equal to a decrease of 25.2% compared to 2020 (1,300,103 units & agrave;). In 2019, there were 1,285,545 registrations. Data, therefore, extremely negative that ACEA explains with the difficulties; carmakers are experiencing in the wake of the chip crisis. The production problems and therefore the consequent lower availability; of cars, would have contributed in an important way to this result.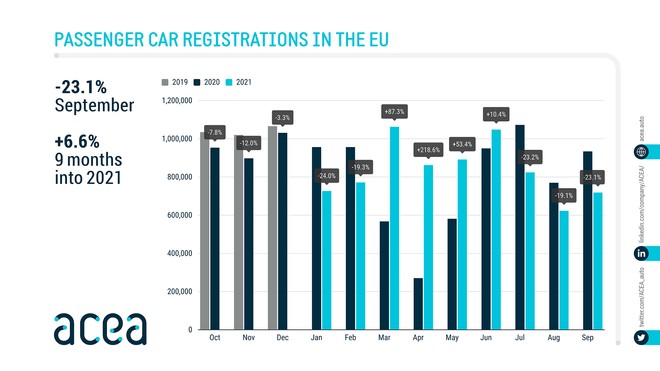 Obviously, all major markets have a negative result in September with double-digit drops: Italy (-32.7%), Germany (-25.7%), France (-20.5%) and Spain (-15.7%). Only a handful of the markets showed a positive sign.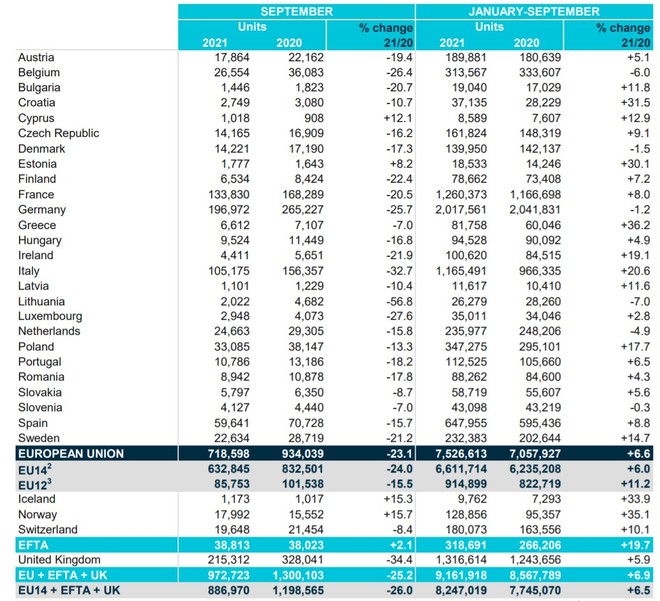 Looking at the data from the beginning of the year at the European Union level, in comparison with 2020, there is; still a growth of 6.6% (6.9% with the United Kingdom and EFTA). The important progress of the first months, thanks also to the fact that in 2020 there had been a long lockdown, were almost completely eroded by the extremely negative results of the last months. At this rate, 2021 will probably close. with an overall figure worse than that of 2020.
Observing the results of the car manufacturer there is no; a lot to say since in most cases these are extremely negative numbers. The Volkswagen Group, for example, closed September with a collapse of 27.7% (European Union data). Worse is the Stellantis Group with a -29.9%. The Renault Group, on the other hand, recorded a decline of 21.8%. Positive sign for the Hyundai Group with growth of 13.1%.
Sar & agrave; It is very important to see the October data at this point, given that the semiconductor supply crisis continues to hit the automotive sector hard. In about two weeks we will have a first indication with the publication of the October issues of the Italian market.
[Data source: ACEA]
The best of OnePlus? OnePlus 9 Pro, buy it at the best price from Amazon at 839 euros .