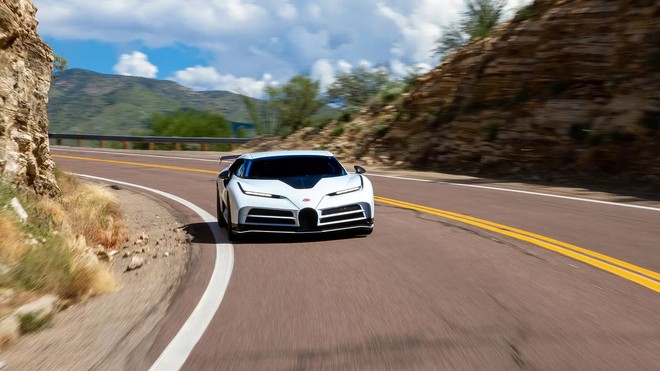 Bugatti Centodieci , new 8 million euro supercar made in just 10 specimens, we saw it last week at the Concorso d & # 39; Eleganza Villa d & # 39; Este, and it is continuing the tests waiting to be delivered into the hands of its lucky – and wealthy – buyers. Last September it successfully completed all the planned tests in the wind tunnel, where & egrave; was subjected to gusts of up to 300 km/h generated by a 9,300 hp turbine that moved an 8 meter diameter propeller.
IN THE DESERT OF ARIZONA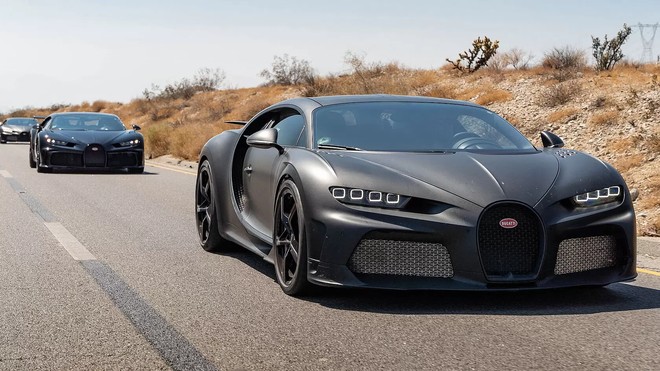 These days the Centodieci & egrave; flew to USA, in the Arizona desert, where she had to contend with temperatures even over 45 & deg; and altitudes up to 2,800 meters , an extremely hostile environment for both humans and machines but capable of offering Bugatti engineers fundamental data, as stated by Stefan Schmidt, general vehicle development engineer at Bugatti.
Testing in the hot, dry desert is a great help in the development process. All Bugatti models must work perfectly, including the few from Centodieci, no matter how high the temperature is. Even if we are making only ten hundred and ten, the testing procedure is; equally exhausting. Each model must function perfectly in all weather and traffic conditions.
Starting from California, eight Centodieci, three Chiron Pur Sports and four Chiron Super Sports have covered 800 kilometers in Arizona , traveling along the Central Pacific Highway from the Pacific Ocean and passing through San Diego. Except on a white Centodieci, the other cars were protected by a matte black film.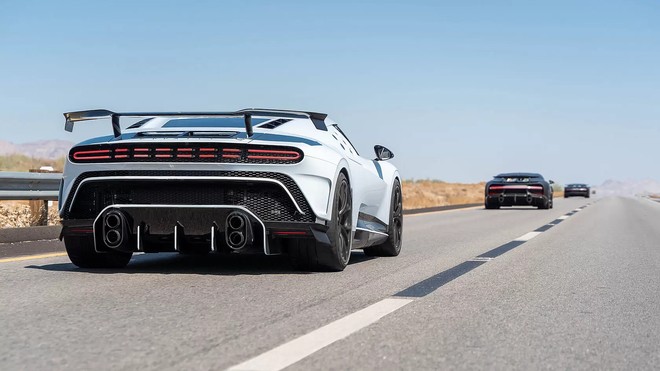 During the trip, the cars were driven on rough roads, in traffic at low speed, left standing in the sun with air conditioning on maximum and speeding at 320 km/h under certain controlled conditions . At each stage, Bugatti engineers repeatedly checked the electrical system, telemetry, radio frequencies, air conditioning and fueling processes thanks to around 200 sensors.
These tests in extreme conditions made it possible to better evaluate the chassis, engine, transmission, thermal management and electrical system. The Centodieci, to regulate the temperature of its powerful 8.0-liter W16 engine that produces 1,176 kW/1,600 hp at 7,000 rpm , also has an additional air intake near the oil cooler.
THE LATEST TESTS IN EUROPE
After this trip to Arizona, the Centodieci will return to Europe where they will be subjected to endurance test over a distance of 30,000 kilometers . Once these are also completed and you will receive & agrave; approval from the development team, will come production of the ten models started in Molsheim, France.
Bugatti Centodieci & egrave; a homage to the EB 110 , the super sports car of the 90s equipped with a 550 hp V12 mid-engine, four turbochargers and four-wheel drive that pushed it to speed; maximum speeds of 350 km/h. The Centodieci goes from 0 to 100 km/h in 2.4 seconds and reaches 300 km/h in 13.1 seconds with speed; maximum electronically limited to 380 km/h .
The best value for money 5G Smartphone? Redmi Note 9T, buy it at the best price from Unieuro at 189 euros .