Renault does not rely only on electric for its growth strategy. The French group, in fact, a few months ago announced the HYVIA joint venture with Plug Power to develop mobility solutions; based on hydrogen. In particular, the joint venture would have focused on the construction of Fuel Cell commercial vehicles . Now, HYVIA has officially unveiled the prototypeRenault Master Van H2-TECH .
In addition, & egrave; the prototype of the first hydrogen vehicle charging station was unveiled. The joint venture, in fact, intends to propose a complete ecosystem. These prototypes are a first illustration of the HYVIA ecosystem, which includes the production of green hydrogen (electrolysers) and its distribution (Hydrogen Charging Stations), as well as; a range of light commercial vehicles with fuel cells (Van, Chassis Cab and Citybus), which complement the electric commercial vehicles.
RANGE UP TO 500 KM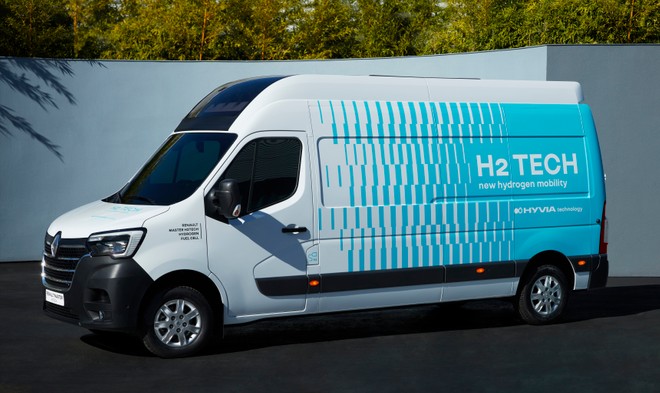 Speaking of the Renault Master Van H2-TECH, it will be; officially commercialized in the course of 2022 . It has a load volume of 12 m3 and an autonomy of up to 500 km. The technical details communicated are not very many, for the moment. However, Renault does know that this vehicle is; equipped with 30 kW fuel cell, 33 kWh battery and tanks for a capacity; total of 6 kg of hydrogen (4 tanks of 1.5 kg).
The whole model is & quot; Made in France & quot ;. The van & egrave; produced in the Batilly plant and the electric motor in the Cl & eacute; on factory. The integration of the electricity and hydrogen systems is made by PVI, a subsidiary of the Renault Group, in Gretz-Armainvilliers. The hydrogen tanks will be supplied to France by Faurecia. The activities assembly of the fuel cells will be carried out in the Flins plant.
As regards the prototype of the hydrogen charging station, the manufacturer informs that it will allow; to refuel the van in just about 5 minutes . The use will be very simple and above all safe as the prototype meets all the regulations. The hydrogen for refueling will be stored in high-pressure tanks that will be refueled by a special tank or by an on-site production by electrolysis. These stations will be offered for sale or for rent and will be manufactured in the Flins plant by the end of the year.
Best Hardware at a Low Price? Poco X3 Pro, on offer today from Bpm power for 209 euros or from Amazon for 254 euros .