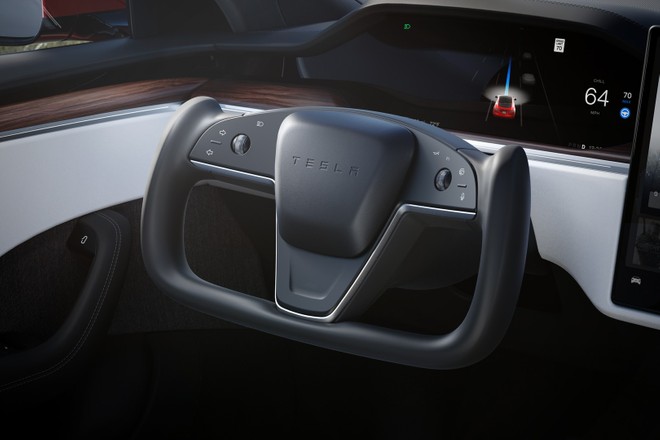 With the arrival of the Model S restylings, Tesla has introduced the new yoke steering wheel which is making argue. There is who likes it but there are also many people who find it uncomfortable. Recently, Consumer Reports expressed several doubts about this technical solution. Even the car manufacturer itself, however, has admitted that there are some aspects to improve, especially on the management of the touch controls on the steering wheel.
After a first & quot; adjustment & quot; introduced in August, the American car manufacturer started the release of the update 2021.36 a few days agowhich includes several novelties, including some dedicated to usability; of the new yoke steering wheel. For example, the management of direction indicators is improved as Tesla has removed the physical controls behind the steering wheel, replacing them with touch controls on the steering wheel.
The indicators now turn off automatically when the vehicle detects that an intersection, junction or lane change maneuver is; completed.
Also, if the car detects a subsequent lane change, the indicator will not go out. until the completion of the maneuver. The goal of these and other small improvements is to make the new steering wheel much more; practical and intuitive to use.
2021.36 #TeslaReleaseNotes
Yoke changes: Autocancel of turn signals on completion of maneuver
Autoturn on of turn signal if navigation suggests it (the car commands YOU to change)
press and hold the & quot; high beams & quot; button to activate washers (very intuitive).
vision autopark S @ refr pic.twitter.com/zrNSBwfF7z

& mdash; green (@greentheonly) October 6, 2021
The update doesn't just focus on the wheel, however. In fact, the system that brings the battery to an optimal temperature is improved before starting a recharge at a Supercharger, especially in cold weather. In this way & egrave; It is possible to recharge at maximum speed; possible. This is a function already; present on Tesla but the new Model S have a different battery pack and, therefore, probably the car manufacturer & egrave; intervened to further optimize this aspect. Among other small innovations; introduced also includes the one that allows you to activate the mode & agrave; Bioweapon from the app to purify the cabin.
Best hardware at a small price? Little X3 Pro, buy it at the best price from Amazon at 224 euros .