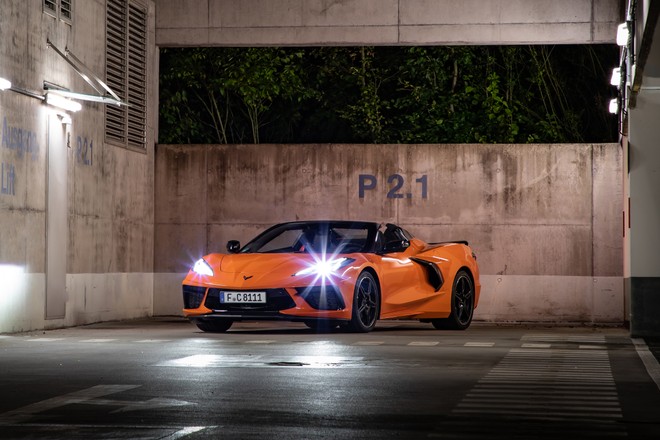 The new Chevrolet Corvette Stingray, the first with central engine, officially lands in Italy , both in Coup & eacute; and both in the Convertible variant. Speaking immediately of prices for the Italian market, the first starts at 90,100 euros, while the second starts from 96,760 euros. We recall the main features of this American sports car.
DESIGN AND INTERIORS

The car design, let the brand know, & egrave; inspired by that of military aircraft (F22, F35 and other modern jets). The lines are lithe and muscular, with a sculpted athletic shape that calls for strength and movement from every angle. The central engine & egrave; visible from the outside through the rear window in the Coup & eacute; version. The optical groups are also new. Also stand out the large side air intakes that serve both to cool the engine and to improve aerodynamics.
Behind are dual element LED taillights with animated turn signals and large 4 tailpipes (2 per side). The American carmaker makes it known that the new generation of the Corvette Stingray & egrave; it was designed primarily as a convertible. The designers designed the hardtop for seamless storage. in the bodywork without sacrificing the (already limited) capacity; of loading. The hardtop offers a more passenger compartment; silent, greater safety and lines more & ugrave; clean compared to models with & ldquo; soft-top & rdquo; hood.
The interiors, as per tradition, are premium with hand-cut and hand-sewn leather finishes . There are also details in aluminum and carbon fiber. There is also a new squared two-spoke steering wheel, designed to make the digital dashboard with a 12-inch screen optimal. Also included is a 14-speaker Bose Performance Series audio system and a new generation infotainment system.
ENGINE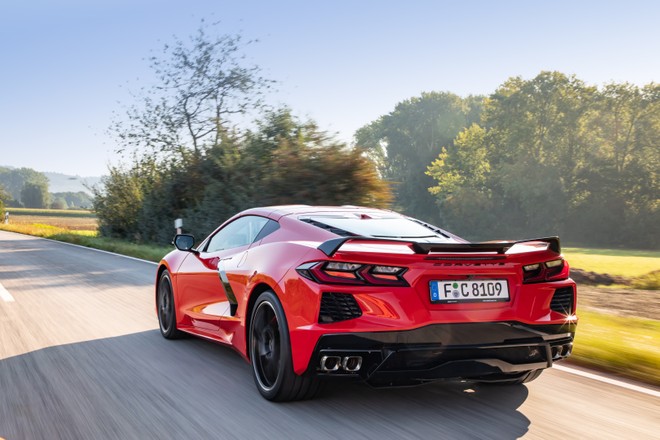 The beating heart of the sports car is its mighty engine, a naturally aspirated V8 of 6.2 liters with 482 HP (354 kW) with 613 Nm of torque . The engine & egrave; fully homologated to meet and exceed the strict Euro 6d emission standards. The unit & egrave; mated to an eight-speed dual clutch transmission (DCT) from Chevrolet. 6 modes are available; driving: weather, tour, sport, track, MyMode and Z. Excellent performance, of course. The new Corvette Stingray sprints from 0 to 100 km/h in 3.5 seconds . The speed maximum & egrave; of 296 km/h.
The sports car is; designed to offer comfort on the highway and well-balanced handling on the track. The car is equipped with coil-over shock absorbers that improve driving dynamics. The mid-engine architecture allows for short, straight and stiff steering, along with an updated electronic steering system, which makes driver chassis input instantaneous.
The new seating position places the center of gravity; of the car near the driver's inner hip, so the car literally revolves around the driver. It completely changes the perception of handling and responsiveness; of the vehicle.
The novelty? Xiaomi small and light? Xiaomi Mi 11 Lite? on offer today at 273 euros .