Hands-on with the iPhone 13 Pro and iPhone 13 Pro Max
You have probably already seen the first reviews from the international media. There have been unboxing videos and there are already a few websites with a more in-depth review. Of course we can't stay behind here in the Netherlands and we give you our own view on the new devices, based on our own experiences.
On this page we give you our first impression. Later, of course, much more extensive reviews of the individual models will follow. If you have specific questions, feel free to ask them in the comments below this article. We'll do our best to go into more detail in the final review!
Text and first experiences: Gonny van der Zwaag (@gonny), photos Daniel Vischjager (@d_vischjager). We tested with a 512GB iPhone 13 Pro in the gold color and a 512GB iPhone 13 Pro Max in the new Sierra Blue color. Both devices were borrowed from Apple and made available for this test before release.
Introduction
It's easy to write this year off as a "typical S year". The major innovations such as an angular design, MagSafe and 5G were last year dé reasons to upgrade. Apple seems to want to refine the devices a little further this year in detail. And that's OK, because we've had s years more often in the past. Still, there are plenty of innovations that are interesting to discuss. We have already made a comparison iPhone 13 vs iPhone 13 Pro, mainly about the technical differences. What your experiences are like when you actually have the devices in your hands is a completely different story. For example, the iPhone 13 Pro Max is the best smartphone in the line-up on paper. However, the fairly large size will put some people off.
In this first impression, we focus on the two iPhone 13 Pro models and especially on the three major improvements of this year: the screen, the camera and the battery life.
Looking for our hands-on experiences with the iPhone 13 and iPhone 13 mini? We'll publish it on Thursday, September 23!

The appearance: minor tweaks
We can be brief about the design of the iPhone 13 Pro: at first glance, this is exactly the same as last year. Then the iPhone got a design with right angles, which is a bit easier to hold (although opinions are divided on that). We did see that some small things have changed. The devices have become slightly heavier and thicker, partly due to the larger battery. The camera bump is also significantly larger, so last year's covers no longer fit. A positive change is that the notch is 20% smaller. But to be honest: you only see it if you pay close attention to whether the devices are next to each other. Unfortunately, Apple doesn't use the extra space. You still do not see the battery status or other useful information. And there is still a black border around the screen, although it has become narrower in recent years.
You can choose from four colors with the Pro models this year. We went for gold (iPhone 13 Pro) and Sierra Blue (iPhone 13 Pro Max). In addition, there are the usual favorites graphite and silver, for those who prefer not to be too colorful. Gold is just as glossy and sparkly as last year – at least as far as the edges are concerned. The back looks more like champagne. We like the new color Sierra Blue. It's not as baby blue as you might think at first glance. Rather, it tends towards a more subtle blue-grey or silver-grey, where the hue changes with the incidence of light. This makes it a little less boring than if Apple had chosen a bright color.

Screen: finally ProMotion!
Last year there was little difference between the iPhone 12 and the iPhone 12 Pro, making it a difficult consideration for many people. For the Pro model you pay a lot more. Then the extra features must be worth it. With the iPhone 13 series, there are finally enough reasons to choose Pro. Not only the camera has more functions on the Pro model, but also the screen has something new: ProMotion.
There have been rumors for years about a 120Hz screen in the iPhone. This year it has become a reality: the screen has a variable refresh rate between 10Hz and 120Hz. Previously, the screen was refreshed at a fixed frequency of 60Hz. With static content, the screen will now be refreshed less often, which is beneficial for battery life. If you play a graphically busy game, the frequency will increase considerably. In this first impression it is not yet possible to give a definitive opinion on this, because we want to test this more extensively and also want to compare it with ProMotion on the iPad. When scrolling horizontally through the home screens on the iPhone or scrolling vertically through the settings, you notice the difference: it goes more smoothly and while scrolling we noticed that texts are easier to read.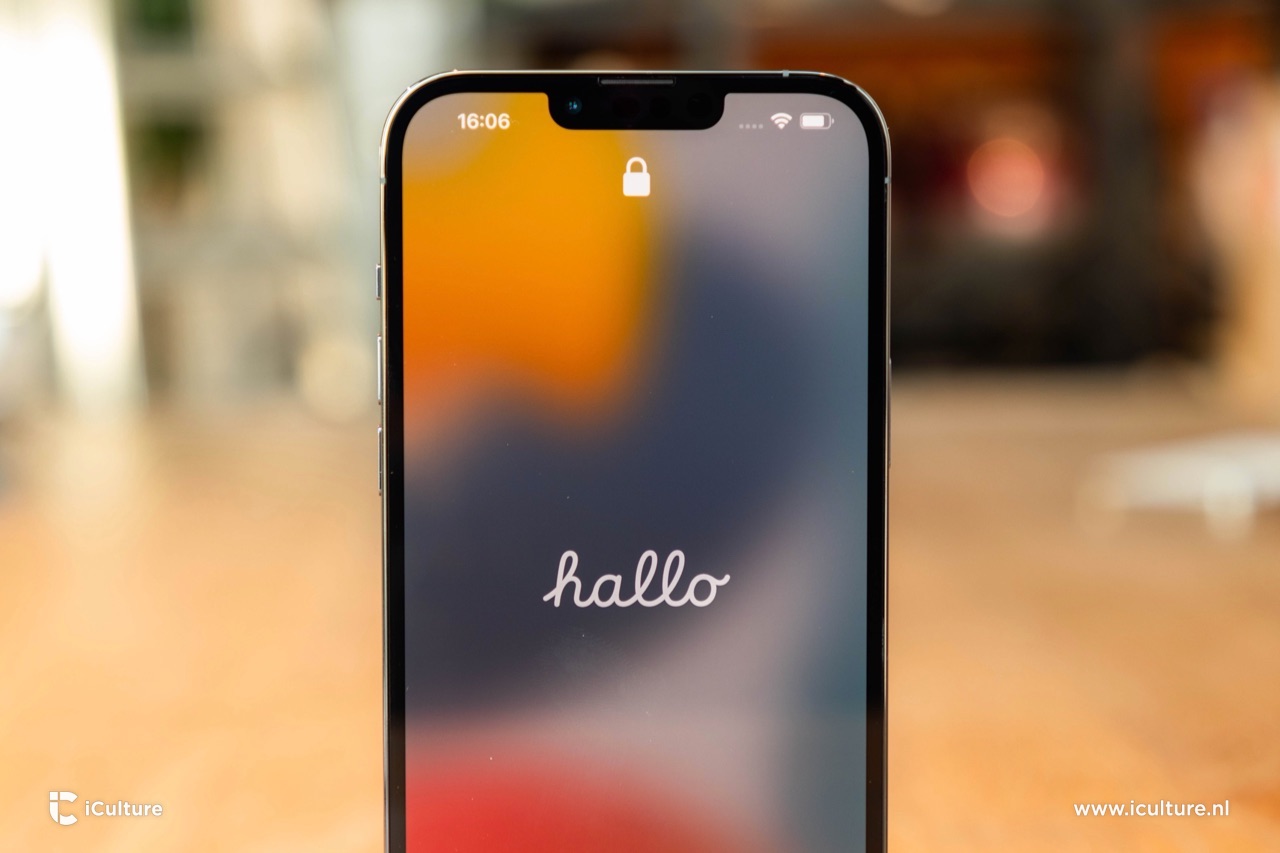 The biggest problem is: do most users see the difference? The best way to determine that is to use ProMotion for a while and then go back to a normal screen. Or by viewing two devices side by side, with and without ProMotion. However, you rarely do that in everyday life.
It will be difficult for Apple to convince customers that ProMotion really has added value. In that regard, Apple could have conveyed the message more clearly by immediately supporting an always-on screen (even if not everyone is waiting for that). After all, the frequency can be adjusted down to 10Hz for stationary content, so technically it would probably have been possible. It is not yet the 1Hz of the Apple Watch screen, but it also has a smaller battery and Apple could also make it optional on the iPhone.
All other screen properties such as resolution, contrast ratio and color reproduction have remained the same.
Hardware in the iPhone 13 Pro models
The A15 Bionic processor has become slightly better and faster this year, but it is remarkable that Apple makes no comparison with the A14. Probably because the progress this year is not so great. It would have to do with struggles in the chip team, but it probably also plays a part that Apple is already such ó is far ahead of the competition that it is difficult to make big leaps. At this point we can be brief: everything has remained the same: apps start up smoothly and you never get the idea that the performance is lacking. The fact that this again contains the latest processor, above all, gives you the guarantee that your device can last for years to come.
Other things like MagSafe, wireless charging, 5G, Wi-Fi 6 and storage have remained the same, the main difference being that you can now purchase models with 1TB. That is only interesting for a small target group, for example people who want to film in ProRes professionally. It was a small effort for Apple to add this extra option and it's nice that it is there.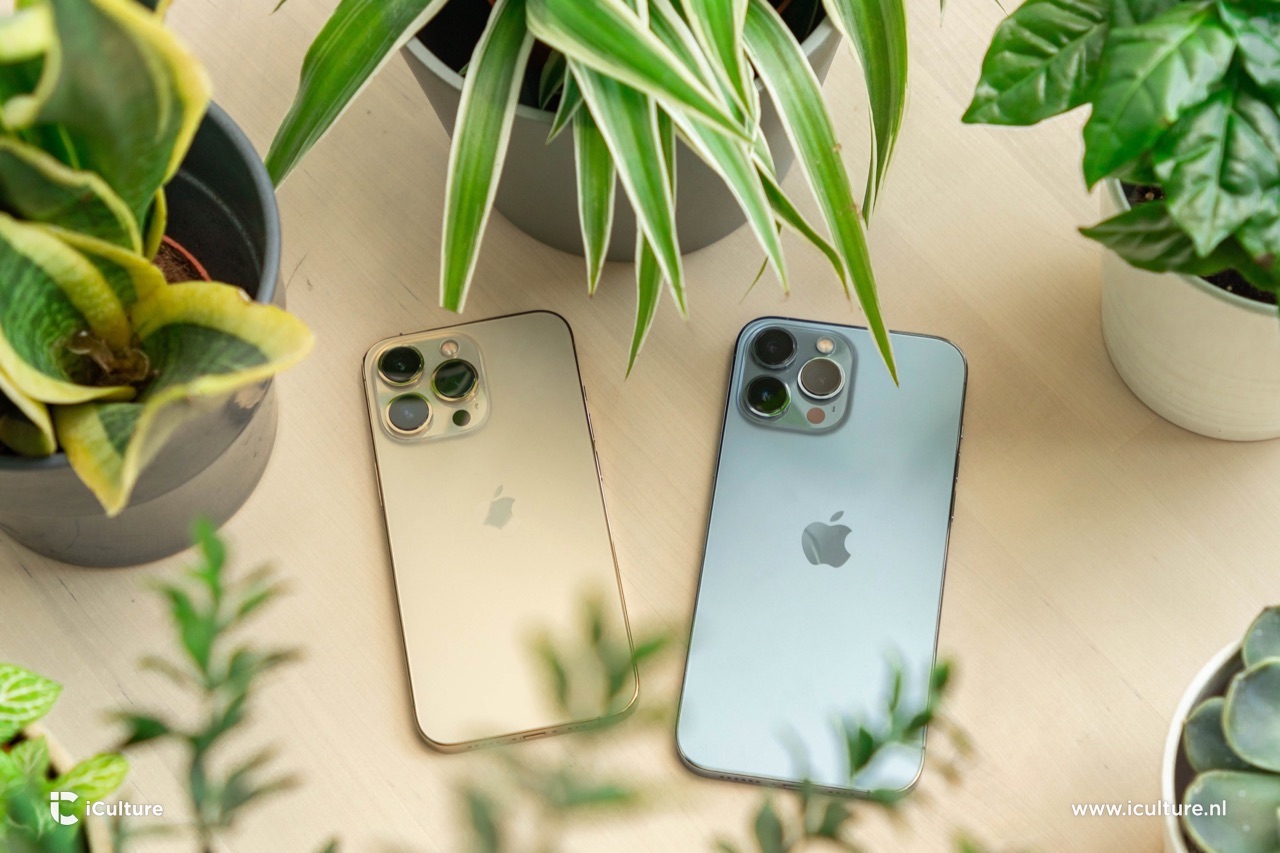 You can read more about the battery life in our extensive review, because we can't say much about it in this first impression. . We do know that on paper, the iPhone 13 Pro has a 1.5-hour longer battery life compared to the iPhone 12 Pro, and that's an improvement that everyone will welcome.
Camera of the iPhone 13 Pro models
Every year there are improvements in the camera. That is also the case this year, but it seems as if Apple has unpacked extra this year. The specs of all camera lenses have been improved and sensor shift is now available on all models, supplemented with new software features such as Cinematic Video and Photographic Styles. That results in a bigger camera bump – something that is especially noticeable with the iPhone 13 Pro. After all, users of an iPhone 12 Pro Max were already used to the thicker camera lenses, which stick out more.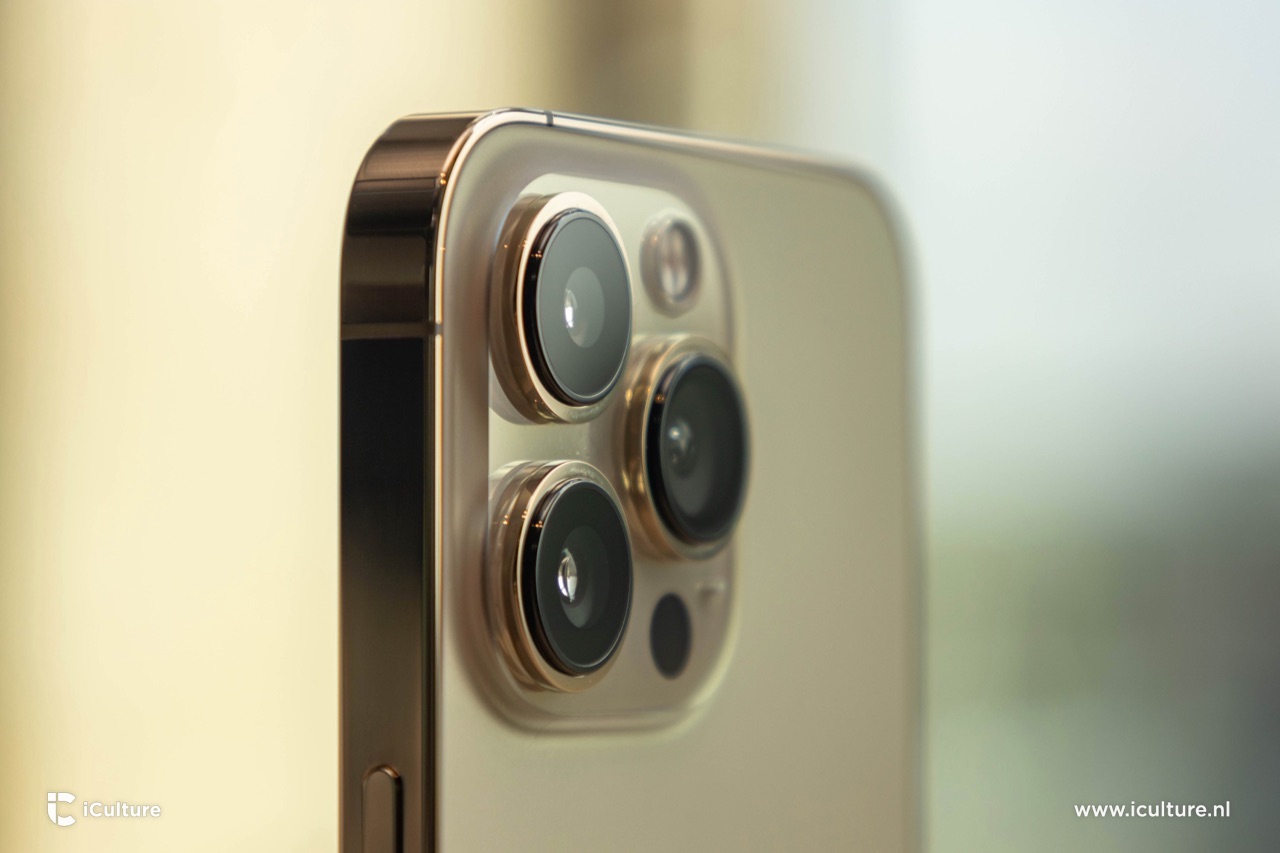 The improved camera comes at the expense of ease of use and appearance. The camera bump sticks out remarkably far and the device now wobbles a lot more when it is on the table. Even with a case it wobbles now, while that was only the case with the Pro Max before. Another user problem is that the device can no longer lie nicely on wireless chargers. I'm using this Belkin charger with elongated charging shelf and there is now an air gap on the iPhone 13 Pro because the camera bump is in the way. That actually forces you to switch to a MagSafe charger. Fortunately, Apple's MagSafe Battery Pack still fits, although it runs very tight along the camera bump. The iPhone 13 Pro Max (and even the iPhone 13 mini) has more space.
Of course we have also already started working on some camera functions. ProRes is coming later this year, but with the new macro mode and the 3x zoom you can already get started. That 3x zoom comes in very handy if, for example, you want to photograph your food in a restaurant (well…) and are bothered by shadows. You can then stand a little further away, so that your food plate is better illuminated. The iPhone 13 Pro models automatically switch to macro mode when you get closer. That happens automatically and caused us some confusion. You can take macro photos from up to 2cm away, but standing a little further away and near the tipping point may also make the camera think you want to take a macro photo. Apple will ensure that you can turn off this automatic switching in the future.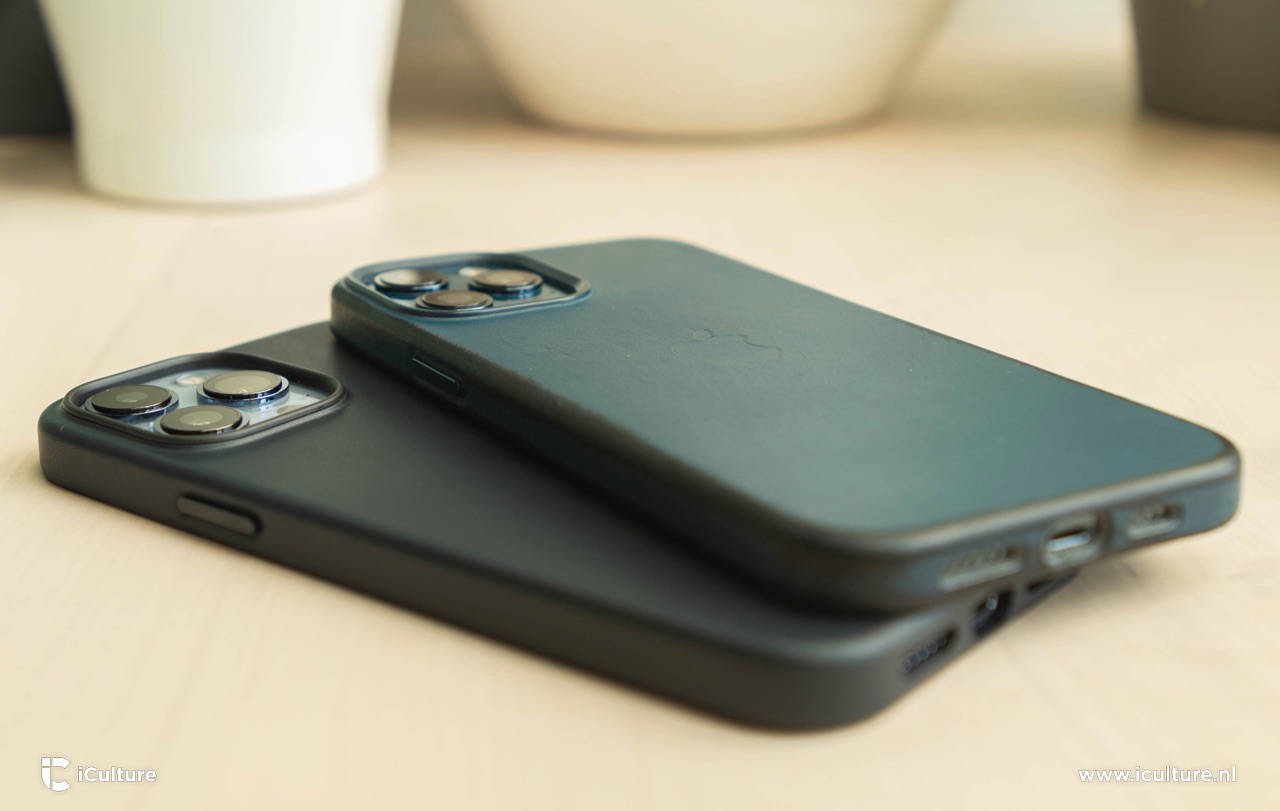 With the iPhone 13 Pro cameras, Apple helps you take even better photos without having to be a talented photographer. Image stabilization, shooting in moderate light, it's all improved, but that's something we've come to expect from Apple. We'll take a closer look at other features like Cinematic Mode and Photographic Styles in our more in-depth review.

Conclusion iPhone 13 Pro first impression
This year it's all about the details: there are no spectacular innovations with the iPhone 13 Pro models, but the total package is still attractive if you have not already switched to the iPhone 12 series. You get all the innovations from last year, which have been tightened up just a bit more, plus some extra. The new design, 5G, MagSafe and ProMotion may be reason enough to upgrade.
This year's improvements focus on three areas: battery life, camera and ProMotion display. The first two are regulars and therefore not surprising, while ProMotion had been in the iPad Pro for a few years. So what is really new? The color Sierra Blue, although based on the photos on Apple's website, we had the impression that it would be a more striking color. In reality it is a muted blue-grey, which sometimes tends to lilac in certain lighting conditions. Graphite, silver and gold are colors that people have grown tired of by now. We would have preferred an iPhone 13 Pro (with matte sides!) in the new Midnight color, but unfortunately this is only available with the standard iPhone 13 and iPhone 13 mini.
Buy iPhone 13 Pro (Max)
The pre-order of the iPhone 13 Pro and iPhone 13 Pro Max has already started and the first devices will be delivered from September 24th.
iPhone 13 mini (5, 4-inch | subscription | single device)
iPhone 13 (6.1 inch | subscription | single device)
iPhone 13 Pro (6.1 inch | subscription | separate device)
iPhone 13 Pro Max (6.7-inch | subscription | single device)
The iPhone 13 pre-order has started! You can contact the following providers:
T-Mobile | Tele2 | Mobiel.nl | KPN | Vodafone | Belsimpel.nl
You can also visit these shops and providers:
Amac | Coolblue | YourMacStore | BCC | Bol.com | Belsimpel.nl | Mobiel.nl | MediaMarkt
Also view our iPhone offers. Do the above links not work properly? Then it is best to disable your adblocker.