Should you be the lucky owner of a HomePod or HomePod mini (despite it still not for sale in the Netherlands), you can download an update tonight. It concerns HomePod software update 15, which was in development at the same time as iOS 15 and the other updates. You can now download the update for your HomePod.
HomePod software update 15 available
Recently the focus has been on iOS, iPadOS and watchOS and you should almost forgot that the HomePod also gets an update. These are new features that are especially useful in combination with other devices, such as the Apple TV. Here are the improvements in a nutshell:
HomePod mini as standard speaker for Apple TV
Playback buttons that appear automatically on iPhone when playing music via HomePod mini
Ability to set a lower bass
Control Apple TV via Siri on the HomePod
Siri on third-party HomeKit devices
Scheduling HomeKit control
Package detection for HomeKit camera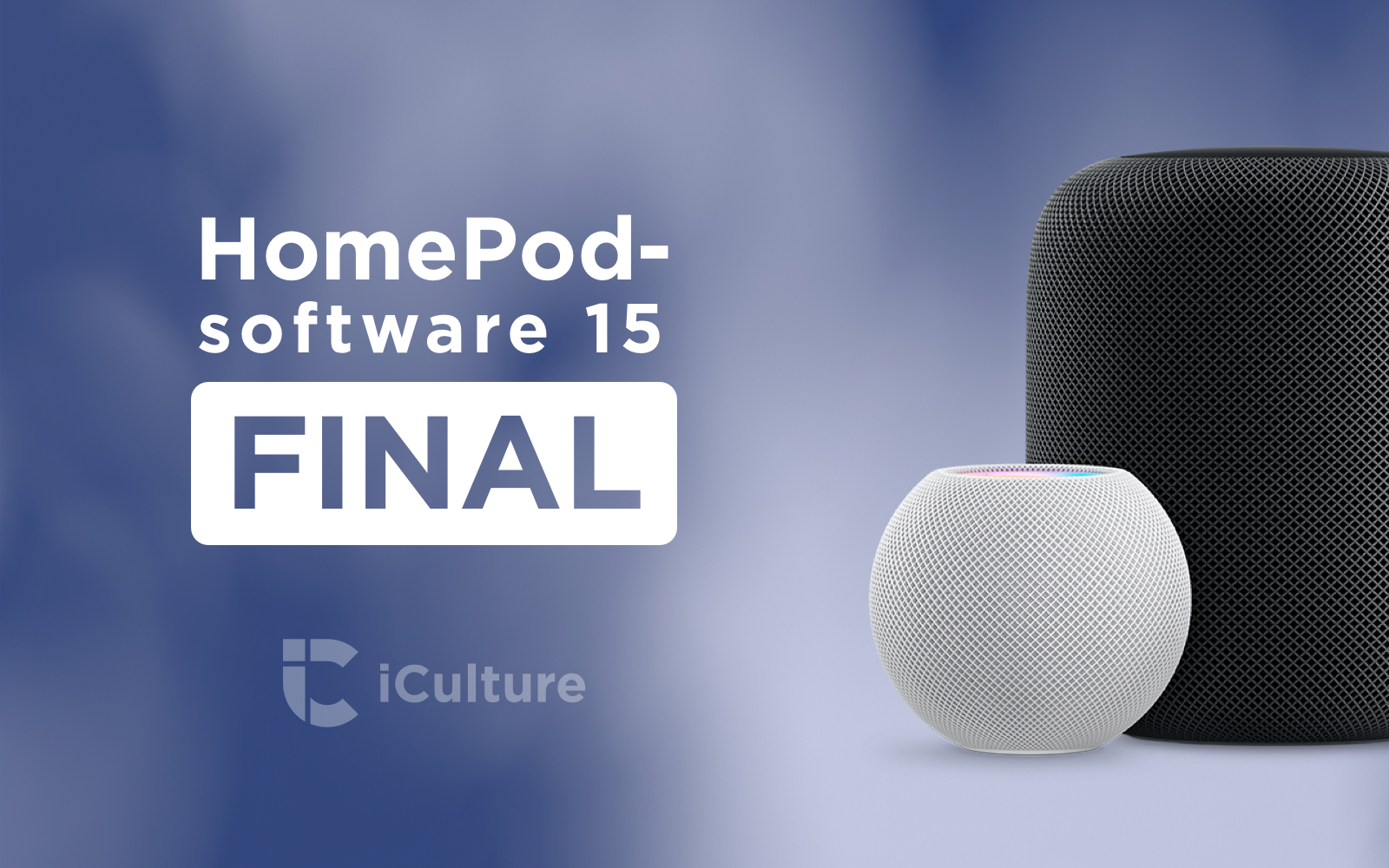 Unfortunately, there is no support for lossless audio in Apple Music on the HomePod and HomePod mini yet. That update is expected at a later date, as an additional update to HomePod software version 15. Also read our previous article with HomePod features for fall 2021.
These are the release notes :
Software version 15 includes support for new HomePod features. This update also includes bug fixes and stability improvements.

Select a single HomePod mini or a pair of HomePod minis as the default speakers for your
Apple TV 4K for rich, room-filling sound and clear dialogue voice
Media playback controls appear automatically on
your iPhone's lock screen when music is playing on a nearby HomePod mini
Set a lower bass level to enjoy music without disturbing the neighbors
Ask Siri to turn on your Apple TV, play a favorite movie and control playback while you watch
Siri automatically adjusts the speech level based on environmental conditions and volume in the user's room< /li>
Ask Siri to turn on your Apple TV, play a favorite movie, and control playback while you watch
Siri automatically adjusts the speech level based on environmental factors and volume in the user's room
Ask Siri to control smart home devices at a specific time, such as turning the lights off in ten minutes
Extend the HomePod range in your home by enabling Siri voice control on compatible HomeKit accessories< /li>
Package detection support with 'Secure video in HomeKit'
Download HomePod software update 15
Download and install the update automatically , but you can also force this yourself if you want the update immediately. This is how you do this:
Open the Home app on your iPhone. Go to the House tab.
Tap the house at the top left. Optionally, choose Home Settings and select the home where the HomePod is located.
Tap Software Update.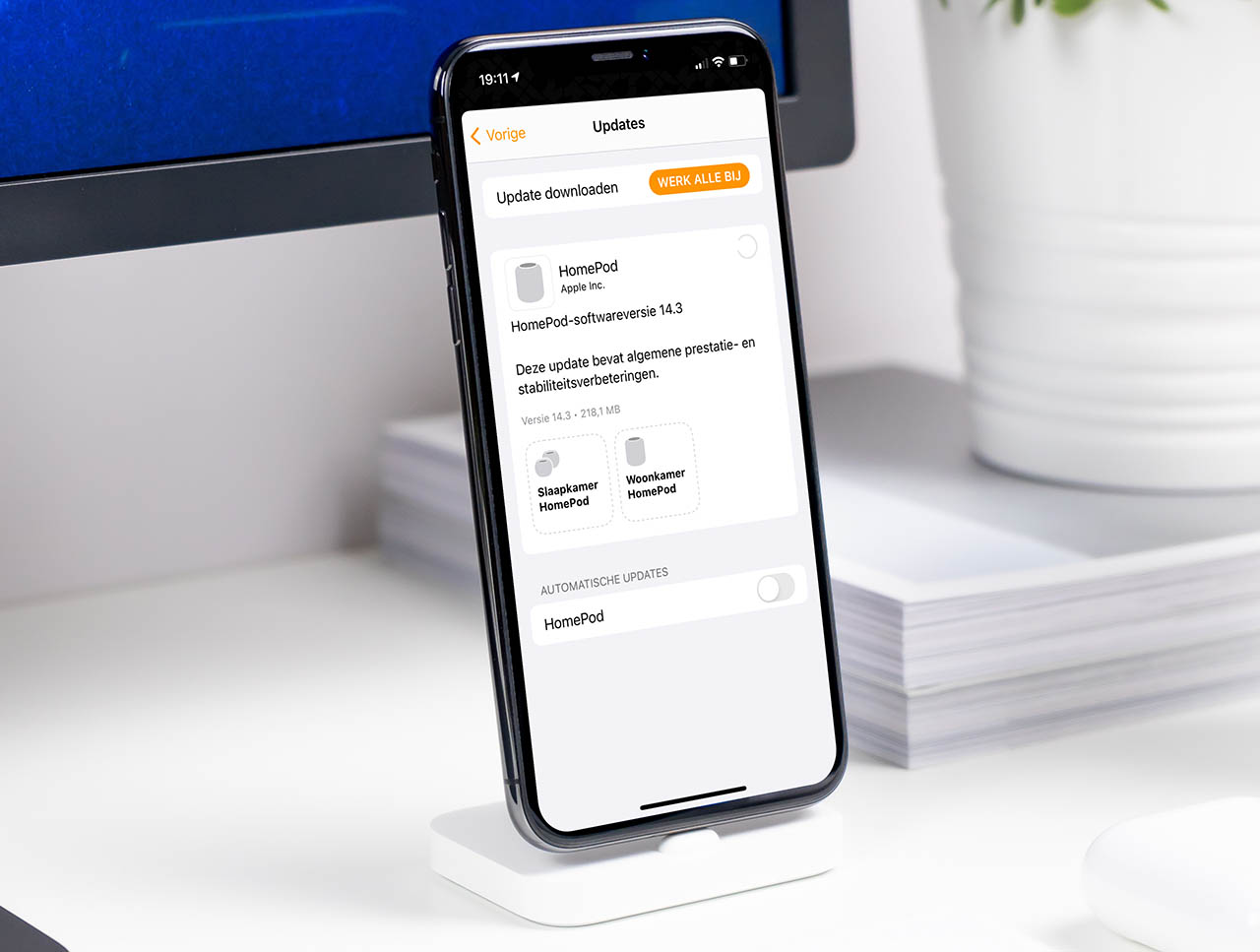 The app will now check for updates.
You will now see the version number and size.
Tap the Download and Install button to update the software.
The HomePod update will now be installed.< /li>
Read more in our article about updating the HomePod.
Note: keep the comments on-topic, concrete and clear for others. Personal status updates of whether your download has started/success does not add anything to the discussion. It may also take a little longer before the update is visible. You don't have to report this either. These comments will be deleted.