Published 14 September 2021 at 14.01
Domestic. Women respond to the development of society by voting more and more on the left – and men by voting on the right. This is how it looks on the whole – and the gender differences in voter behavior have increased greatly over the past 50 years.
Like the article p & aring; Facebook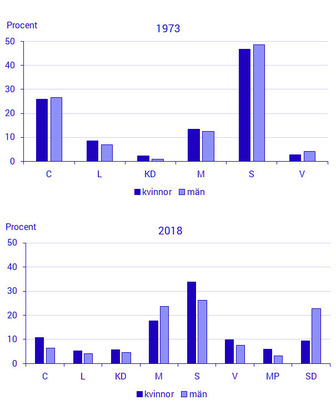 & copy; & nbsp; Statistics Sweden
Party sympathies 1973 and 2018. (Click for larger picture.)
It is now 100 years since women in Sweden for the first time were allowed to vote in elections to the Riksdag.
Since the 1970s, turnout itself has been about the same large for both sexes.
– If we instead study the party sympathies for women and men over time, we can see that the polarization of political opinions over the past 50 years has increased between the sexes, says Mikaela Järnbert, statistician at SCB.
Every year in May and November since 1972, Statistics Sweden has conducted the party sympathy survey (PSU). The November polls during election years show that the differences between men's and women's party sympathies were small shortly after the 1973 parliamentary elections. But about 50 years later, the differences have increased markedly.
The biggest differences are within the party that has only been included in the polls since 2010, namely the Sweden Democrats. In the November 2018 survey, 22.7 percent of men and 9.3 percent of women sympathized with the party, a difference of 13.4 percentage points.
The moderates have for most of the nearly 50 years that the polls had a higher proportion of male sympathizers than females. The trend has continued and the differences have also increased over time.
For the Social Democrats, too, a gender difference has arisen among sympathizers in recent years. For most of the last five decades, the party has had an even distribution of female and male sympathizers, but in recent polls, the female sympathizers have become in the majority. The Left Party had a larger proportion of male sympathizers during the 1970s and 1980s, but has since the end of the 1990s had a predominance of women at most polling times.
No major changes in the gender distribution have taken place regarding the Center Party , Sympathizers of the Liberals, Christian Democrats and the Green Party. In all polls, the Green Party and the Christian Democrats have had a higher degree of female sympathizers than male ones. For the Center Party and the Liberals, it has varied somewhat, but in general both parties have always had an approximately equal proportion of male and female sympathizers.
These results are confirmed in the report "Trends in gender differences among Swedish voters", written by Maria Oskarson and Jakob Ahlbom on the Election Research Program at the University of Gothenburg. They state that women today are more to the left than men, that they give higher priority to welfare issues and that they are more positive towards a public welfare policy than men.