Security cameras offer a limited field of vision. Some models can be swiveled and tilted, but the current field of view is always limited. Reolink would like to counter this problem with a new approach and equips the Reolink Duo with two lenses to expand the field of view.
Less distortion through two lenses
This double-lens camera should eliminate blind spots and make manual panning and tilting of the camera unnecessary. In contrast to cameras with a single lens with the widest possible field of view, Reolink promises, above all, significantly less image distortion thanks to the two lenses of the Reolink Duo. According to surveys by Reolink, around 20 percent of their own customers would like to be able to keep an eye on the widest possible field of vision without having to rely on multiple cameras.
Four models with 4 MP, spotlights and IR LEDs
The Reolink Duo will rely on two lenses with 4 megapixel resolution and offer a combined field of view of 150 degrees horizontally and 44 degrees vertically. In addition to person and vehicle detection in conjunction with a motion sensor with a 140 degree horizontal detection range, the video camera offers an LED spotlight with four LEDs with 400 lumens per lens and three infrared LEDs (850 nm) for night vision mode for both lenses.
Reolink will offer a total of four different models of the Reolink Duo, two each with a battery and two for wired installation with a power supply unit. The two models with an integrated battery, which has a capacity of 10,400 mAh and can also be charged via an optionally available solar module, differ in their wireless connection. One model uses dual-band WiFi with 2.5 and 5 GHz (IEEE 802.11 b/g/n), while the other uses LTE. With the two wired variants, on the other hand, there is a model with WLAN and network and one with Power over Ethernet (PoE, IEEE 802.3af, 48V Active). With both, Reolink includes a 4.5 meter long extension cable for the power supply to make it easier to choose the installation location. Screws, dowels and a screwdriver are also included.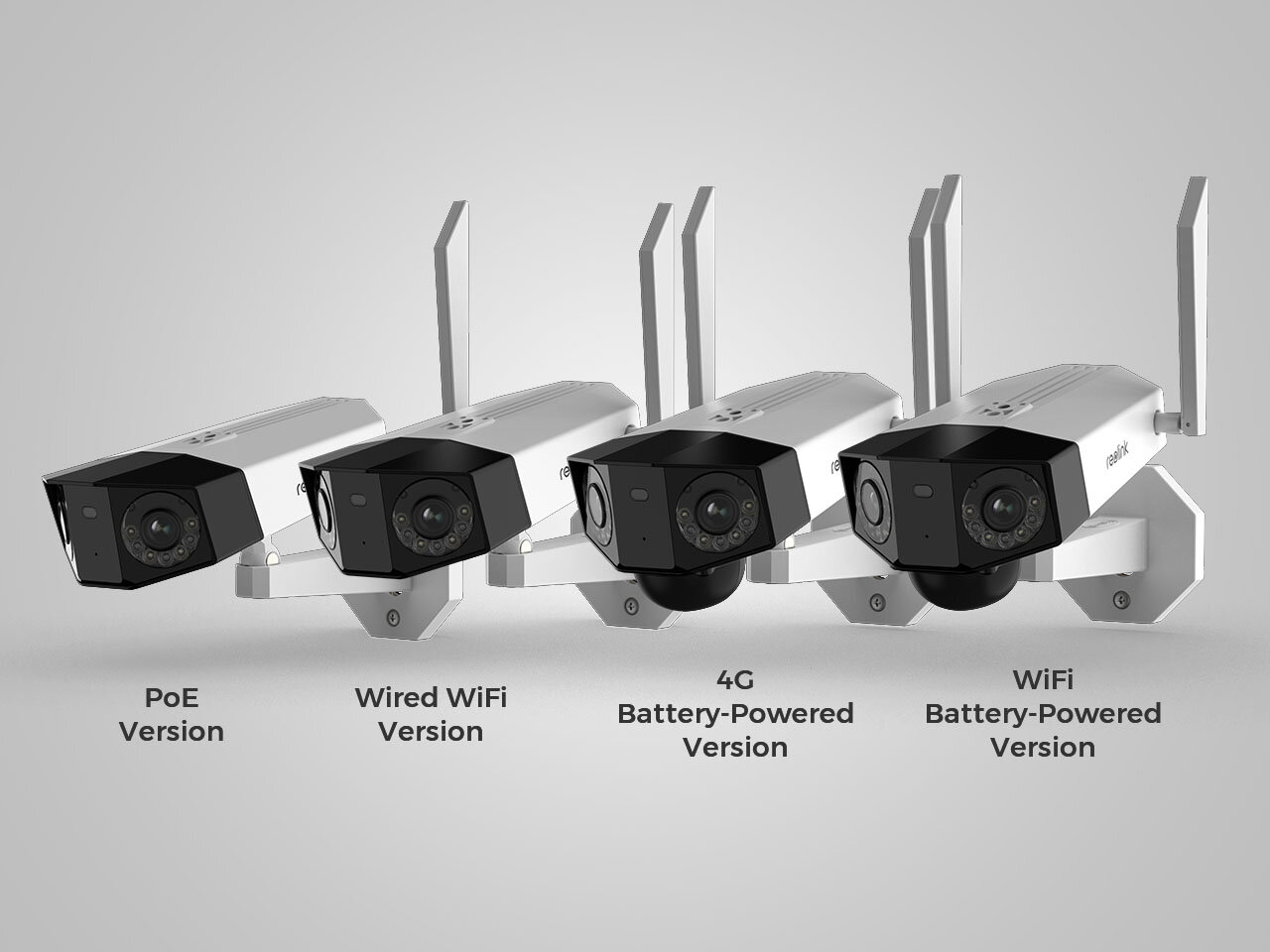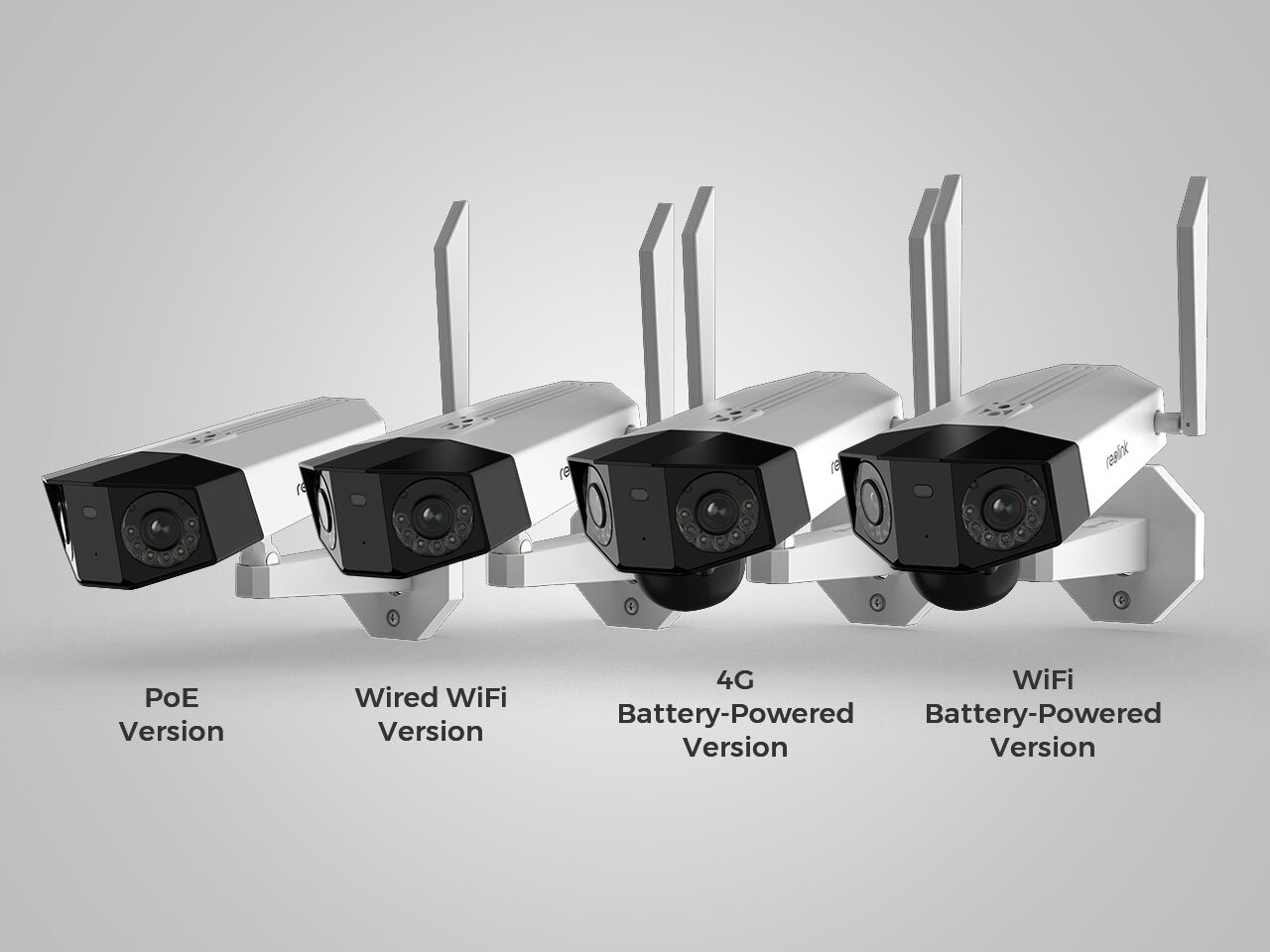 >
Reolink Duo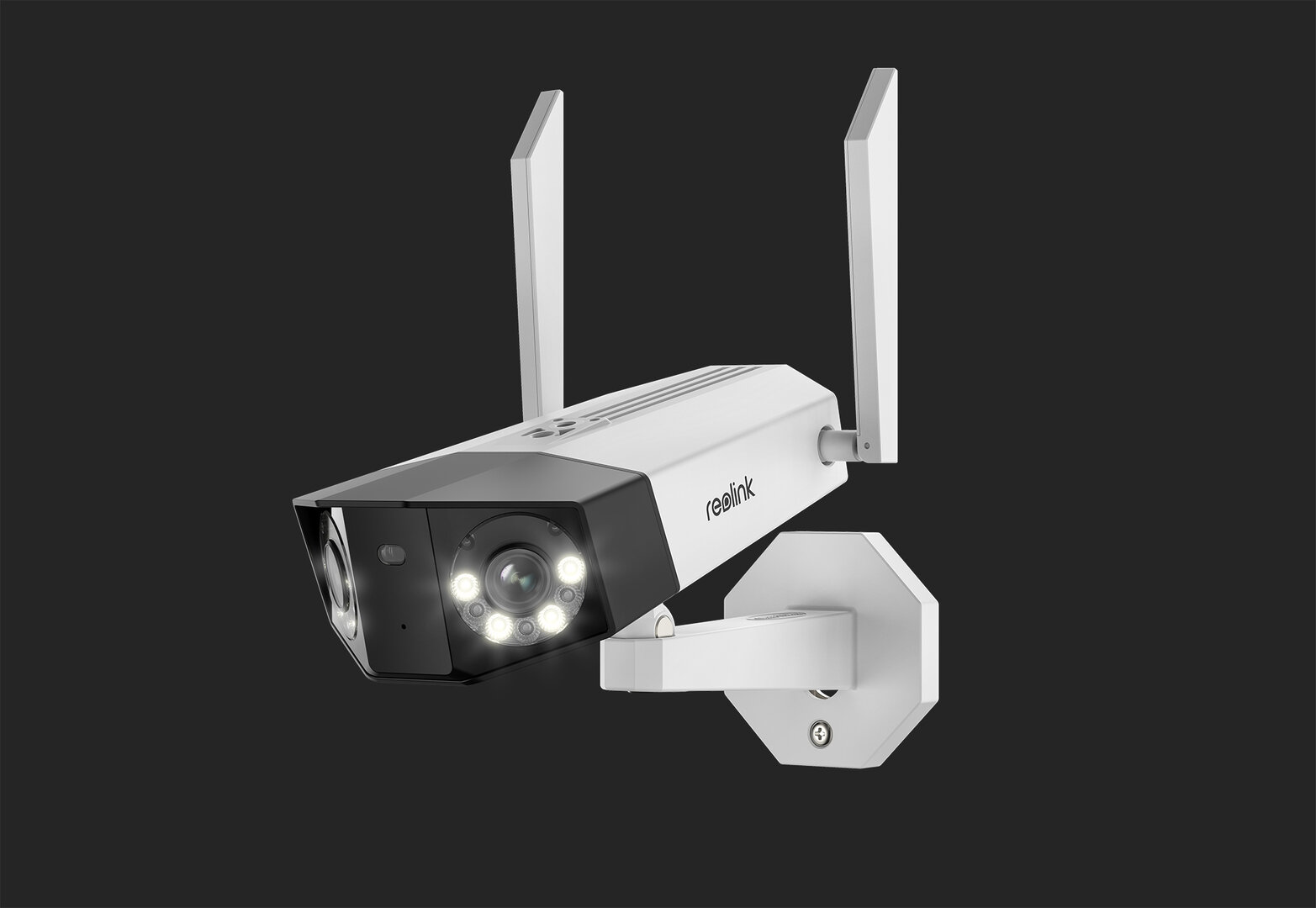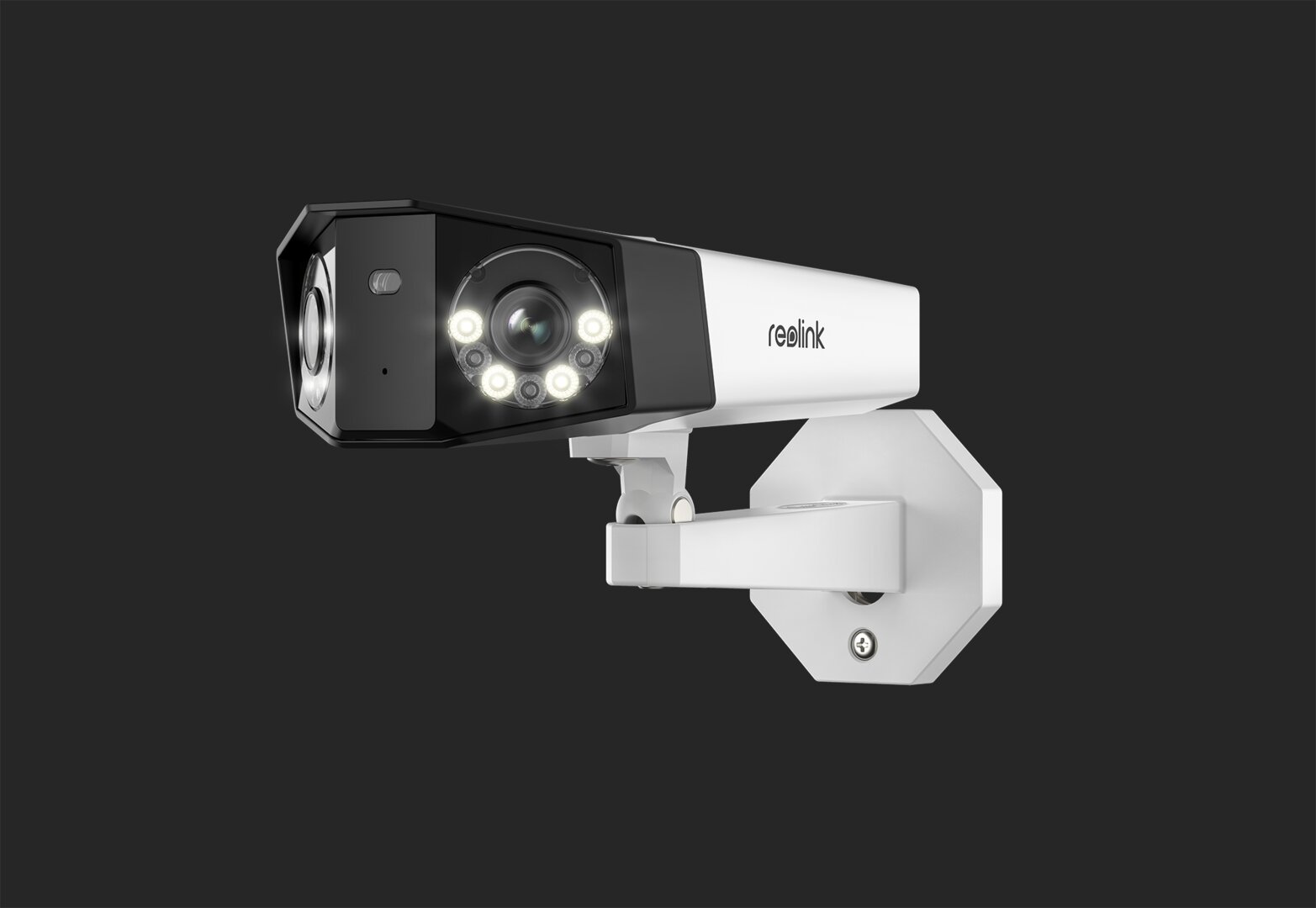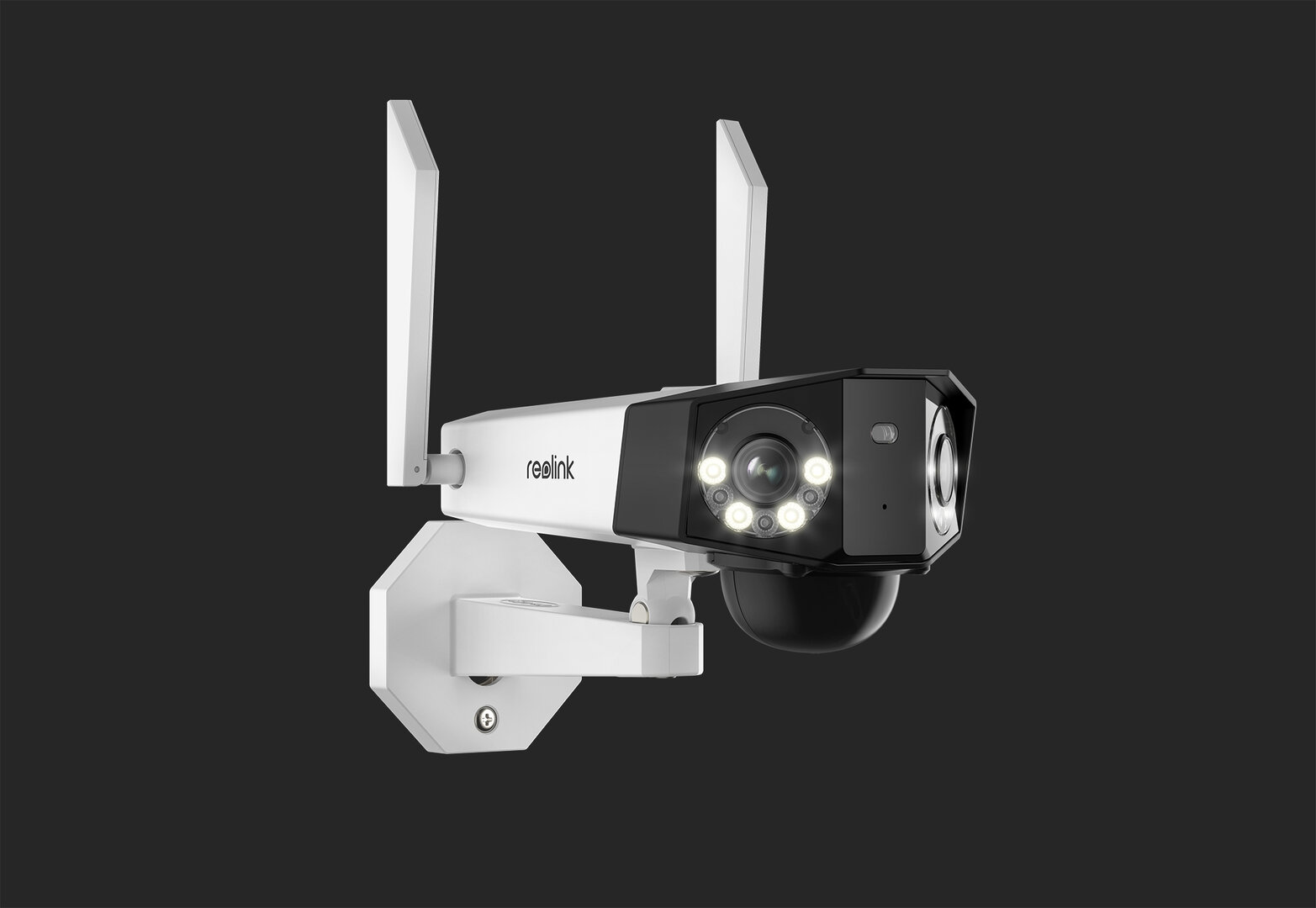 Recordings end up on microSD card or FTP
The camera records videos with up to 2,560 × 1,440 pixels with up to 25 FPS for the PoE and WLAN models or 15 frames per second for the battery WiFi and battery 4G versions. H.265 is used as the video codec. Recordings can be saved on a microSD card, which is inserted in a compartment on the underside of the Reolink Duo. A microSD card is not included in the scope of delivery. With the wired versions of the Reolink Duo, an automatic FTP upload of the recordings is also possible. The Reolink Duo also supports two-way audio via a loudspeaker and microphone for speaking with people in front of the camera.
IP66 and up to 740 g heavy
All four versions of the Reolink Duo are protected against dust and water in accordance with IP66 and can also be used in unprotected outdoor areas. In the two versions with power supply unit and RJ45 connection, the cable connections are also protected against rain. Reolink specifies an operating temperature of -10 to + 55 ° C. At 195 × 103 × 56 mm, the Reolink Duo is an impressive size and weighs around 590 or 330 grams, depending on the model, with or without a battery. The 4G version even comes up 740 grams. The supplied mounting arm enables either wall or ceiling mounting.
Pre-order from September 22nd, available from the end of October
The Reolink Duo can be pre-ordered from September 22nd. The delivery and general availability should be given by October 23rd. Final prices are not yet available, but the PoE version is expected to cost around 130 euros, the wired WLAN model 150 euros, the battery WLAN model around 240 euros and the battery 4G model around 360 euros.
ComputerBase has received information about this article from Reolink under NDA. The only requirement was the earliest possible publication time.