Published 13 September 2021 at 14.54
Domestic. A couple of hundred kilos of make-up and skin care products were picked up by the train in Herrljunga. According to police, the products were probably intended for the black market.
Like the article p & aring; Facebook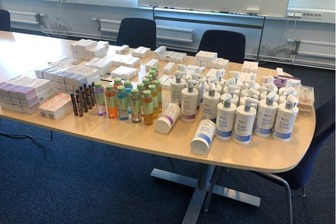 & copy; & nbsp; Police
Part of the seizure.
It was last Friday that the police's regional command center in Gothenburg received a tip from a passenger on a train that was about to depart from Stockholm with destination Gothenburg.
The passenger noticed three men carrying on board five large sports bags, to then leave the train without going on the trip. The bags were properly taped together and the tipper thought it all felt strange.
In Herrljunga, a police patrol was waiting on the platform and one of the bags was taken off the train and checked. It turned out to contain large amounts of branded makeup and skin care products.
– These are genuine products of great value. One theory is that they would be sold on the black market, says Pernilla Svensson, group manager at Alingsås Police, on the police website.
A police report has been made with the criminal classification gross theft or receiving and the case has now been handed over for investigation.
– We have done some track securing on the bags, and hopefully film material from Stockholm and Gothenburg train stations can lead the investigation further, says Pernilla Svensson.