Resident Evil Village supports AMD's FidelityFX Super Resolution since the last update. The test shows that FSR delivers better results than simply tweaking the resolution – but the result is far from perfect. FSR works fine on both Radeon and GeForce graphics cards.
Table of Contents
1 AMD FSR brings on all GPUs more FPS and more blurring

FSR as usual for all GPUs, from AMD to Nvidia
FSR is astonishingly stable, but also quite fuzzy

2 benchmarks in WQHD as well as Ultra HD and the conclusion

the performance advantages with FSR
conclusion
Resident Evil Village is not an optical masterpiece, but technically delivers a decent performance on the PC due to ray tracing, among other things. The ratio of image quality and performance, which is only found in a few other games at this level, is really successful. If the frame rate is still not enough for you, you can now use AMD's new FidelityFX Super Resolution to increase the speed since the last patch. ComputerBase has looked at FSR in detail.
FSR as usual for all GPUs, from AMD to Nvidia
Resident Evil Village now offers FSR in the current and therefore first iteration, accordingly AMD's upscaling technology in the game is also marked as version 1.0. The advantages and disadvantages are therefore the same as in the other supported titles. FSR runs on GPUs from AMD, Nvidia and even Intel. Even on older graphics cards there are usually no problems.
In the graphics menu of Resident Evil Village FSR can be activated in the quality levels "Ultra Quality", "Quality", "Balanced" and "Performance", even if the developers run the quality setting under the name "Good Quality". FSR is active immediately after activation and the mode can also be switched while the game is running.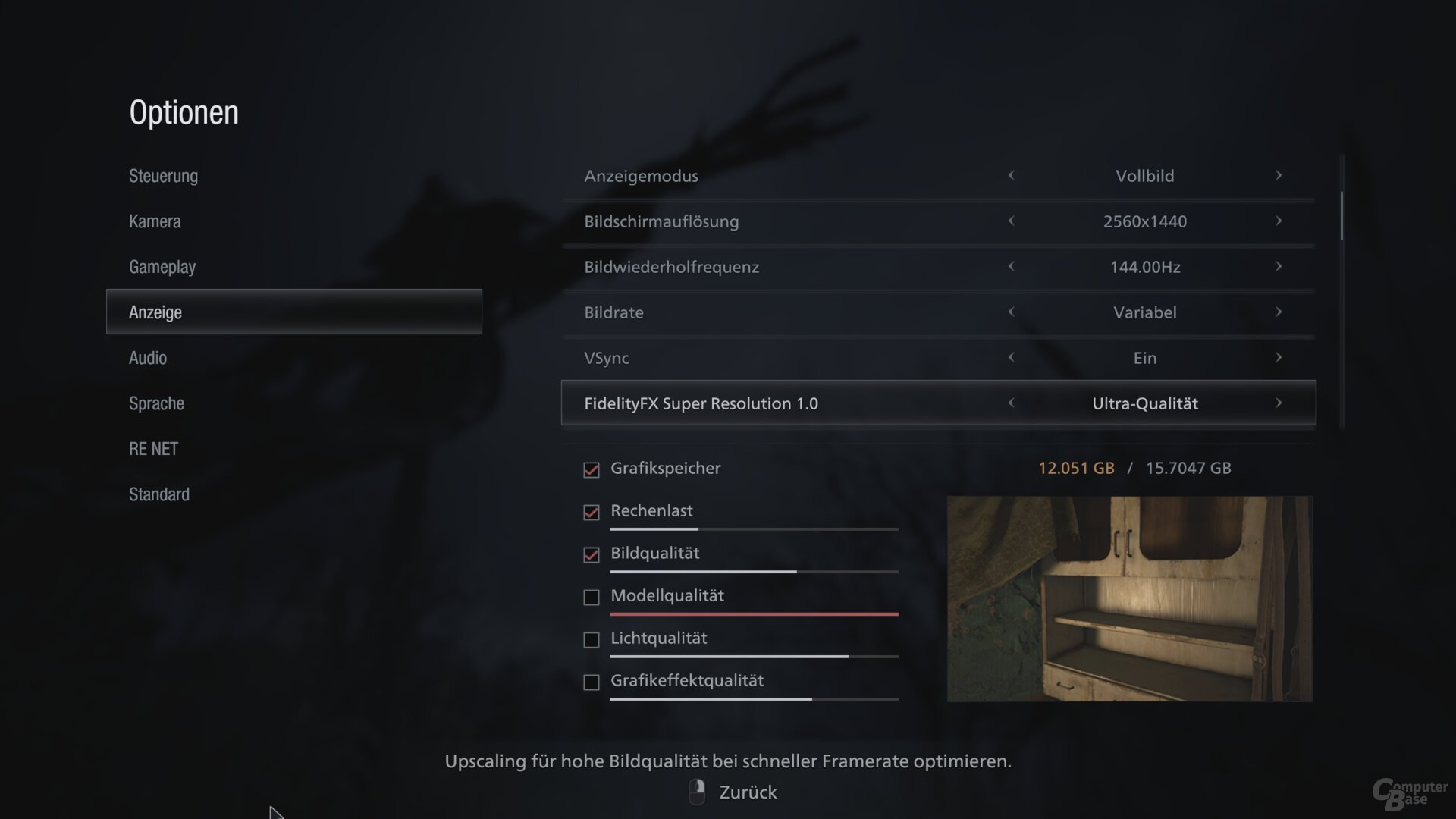 FSR is surprisingly stable, but also quite fuzzy
Unlike Nvidia's competing technology, FidelityFX Super Resolution currently works without a temporal component. This means that the technology is only ever applied to the frame currently being rendered and does not include any previous frames. Accordingly, no objects can be reconstructed. In addition, there is no solution that takes care of the image calm. This job is left to the game's own TAA.
The missing reconstruction is not a big problem in Resident Evil Village. The graphics engine used copes well with this, even thin elements such as branches are displayed correctly for the most part. The game's own reconstruction is not perfect, but at the latest in higher resolutions such as WQHD or Ultra HD there are no more problems worth mentioning with it.
Image stability is a double-edged sword. The game's TAA works well on average. FSR gets some objects surprisingly well smoothed, they flicker even less than if a higher, native resolution is used with the game's own TAA – because even in high resolutions, some objects persistently flicker. Others, on the other hand, flicker a bit more, whereby the Ultra Quality setting achieves a good result. In terms of image quality, the mode is to be regarded as equivalent in terms of image stability. More aggressive settings then lead to more flickering, which already increases visibly from the Ultra setting even in Ultra HD.
With a lower resolution the image loses a lot of sharpness
It is normal for TAA to gain image sharpness at high resolutions. AMD's FSR can normally at least largely compensate for this with the integrated, high-quality CAS for re-sharpening. However, the Resident Evil Village TAA reacts extremely extremely to a reduced number of pixels and FSR simply cannot compensate for this. As a result, the image sharpness is visibly reduced even in 3840 × 2160 with the highest setting "Ultra Quality".
Although the effect is not yet massive in Ultra HD and the highest FSR settings, the blurring is immediately noticeable when gaming. Even FSR on "Ultra Quality" in Ultra HD is no longer equivalent to the native resolution including TAA, but is still worthwhile if there are performance problems. With the second-highest ultra setting, there is again a good portion of blur on the image, which then looks very blurred and is no longer recommended. The same goes for the benefit of FSR in lower resolutions. Then the game will be blurred anyway, so FSR on "Ultra Quality" should also not be available in WQHD unless there are massive performance problems – in Full HD you shouldn't even think about upscaling.
FSR is still superior to classic upscaling
FidelityFX Super Resolution is still superior to classic upscaling. Resident Evil Village conveniently offers in-game upscaling, which simply reduces the rendering resolution. And then with a resolution comparable to FSR on "Ultra Quality" (factor 0.8 in Ultra HD, which results in around 8 percent more pixels than with FSR) it becomes clear that AMD's technology is ahead of the curve. Although there are slightly fewer pixels available for FSR in the comparison, AMD technology brings more details out of the image because the sharpness is superior. In addition, the image stability is slightly better, thanks to the very good edge reconstruction.
In-game checkerboard rendering as a very different alternative
As an alternative to FSR, Resident Evil Village offers the checkerboard rendering known from consoles as an alternative, which is listed in the graphics menu as "Interlaced". If you use this mode in 3,840 × 2,160, the GPU can actually only render in 1,920 × 2,160 and compose the final image temporally – information from previous frames is used. Like FSR, the mode brings a significant performance boost, but offers completely different advantages and disadvantages.
The interlaced mode delivers an astonishingly sharp image regardless of the resolution, which in some places is even slightly superior to the native resolution. When you consider how extreme the game actually reacts to a lower render resolution, the effect shown is pretty incredible. However, the checkerboard rendering does not have a particularly smooth image. Because this decreases significantly compared to the native resolution and FSR, i.e. the image flickers significantly more intensely even in Ultra HD.