Apple Pay improvements in iOS 15
Apple Pay is one of the most popular features of the iPhone and many Dutch banks now work with Apple's payment system. You probably mainly use Apple Pay in stores, but you can also pay with Apple Pay online in many places. For both online and offline shopping, Apple has planned improvements to Apple Pay in iOS 15, which we've collected for you here.
New design online payment
Add new card online
Enter discount codes
Recognize where you paid
#1 New design when paying online
If you pay with Apple Pay in a webshop or in an app, a payment screen will appear with all information about your payment and personal data. There you will see the total amount, any shipping and shipping costs, contact details and more. This payment screen gets a new design in iOS 15, which looks a bit clearer than before. In the screenshots below you can see what it looks like in iOS 14 and iOS 15. Each part can be opened separately and adjusted if necessary.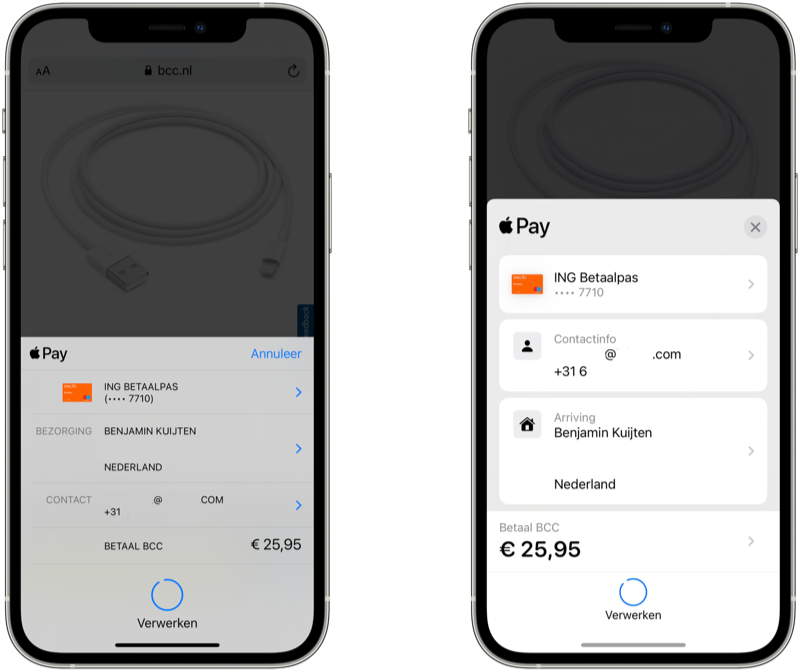 iOS 14 vs iOS 15. Personal data has been removed from the image.
#2 Add new card from payment screen< br>In addition to the new design, this online payment screen has also received some new functions. This way you can add a new Apple Pay card directly from this screen. This is especially useful if the webshop does not accept your current added cards. All you have to do is tap on the payment card and choose Add payment method at the bottom. So you no longer have to go to the Wallet app separately.
#3 Enter discount codes in the payment screen
We all love discounts, and Apple Pay's online payment screen in iOS 15 also supports entering discount codes. This is especially useful if an online store supports the Apple Pay button from product pages (such as BCC), which allows you to bypass the shopping cart. The option to enter discount codes in the Apple Pay payment screen must be supported by the webshop.
#4 Recognize more clearly where you paid
You can view all your Apple Pay transactions in the Wallet app. With each card you can see the recent payments you have made with it, both in physical stores and online and in apps. In iOS 15 this looks a bit better, because every payment now also has a matching icon. You can therefore better recognize in what kind of shop you have paid, such as a supermarket or a restaurant. If you have paid via an app, you will immediately see the app icon there.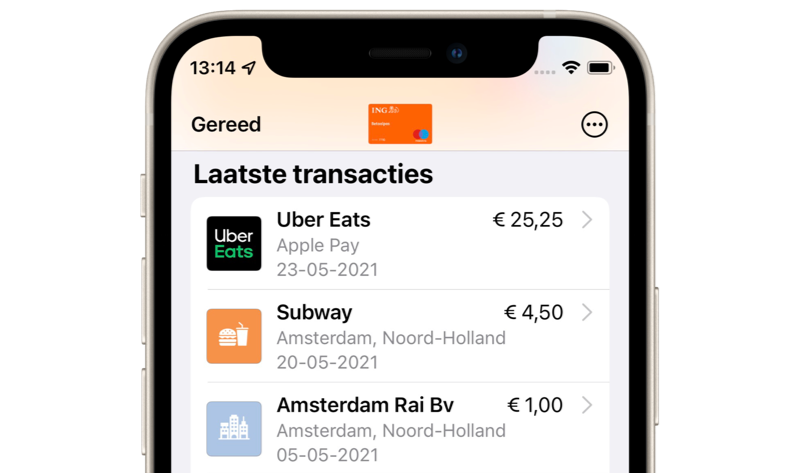 Apple Pay in the Netherlands is now available at five Dutch banks and also at countless other banks and providers of online payment cards. The largest absentee with Apple Pay is currently de Volksbank. In addition to these improvements for Apple Pay in iOS 15, the Wallet app in iOS 15 also gets some useful new features.
More about iOS 15
iOS 15 is the major update for the iPhone and iPod touch. If you want to know whether your iPhone is suitable for iOS 15, you will find the answer in our article. We expect the official iOS 15 release in September/October 2021. Find out what else was announced during the keynote in our WWDC 2021 recap! Or read our very extensive iOS 15 preview.