With the D16 Thunderbolt 3, TerraMaster is bringing another DAS housing with Thunderbolt 3 onto the market, which uses a hardware RAID controller and up to 16 drives for currently up to 288 terabytes Takes up storage space. According to TerraMaster, the D16 Thunderbolt 3 is the world's most compact 16-bay hard drive enclosure.
2,800 MB/s with SSDs
The TerraMaster D6 Thunderbolt 3 should achieve a maximum data transfer rate of up to 2,817 MB/s if it is filled with 16 SSDs in RAID 0. In RAID 6, the manufacturer promises 2,480 MB/s when using SSDs. TerraMaster sees the purpose of the D16 Thunderbolt 3 again primarily in video editing, where large amounts of data have to be transferred quickly. Whether the user uses 3.5 or 2.5 inch drives in the D16 is up to him as well as the choice of storage type, SSD or HDD. The RAID modes available are RAID 0, 1, 5, 6, 10 and 50 as well as JBOD.
2 × TB3, 1 × DisplayPort and 1 × USB
The D16 Thunderbolt 3 has two Thunderbolt 3 ports with a maximum data transfer rate of 40 Gbit/s each, one of which establishes the data connection to a computer, while further Thunderbolt devices are connected via the other via daisy chain. Five more Thunderbolt devices can be connected in series to the D16 – theoretically a total of six D16 Thunderbolt 3 devices for a storage capacity of more than one petabyte. A DisplayPort 1.4 enables a monitor with up to 8K resolution to be connected directly to the D16. The D16 also has a USB-A port (USB 3.1 Gen 2).
Titan-Ridge-Thunderbolt-Controller?
Which RAID controller and which Thunderbolt controller is used in the TerraMaster D16 Thunderbolt 3, TerraMaster does not name itself when announcing. However, the DisplayPort 1.4 excludes the Intel JHL6540 controller (Alpine Ridge), as it supports a maximum of DisplayPort 1.2. The Intel JHL754 alias Titan Ridge could thus be used. ComputerBase asked TerraMaster which RAID controller is used.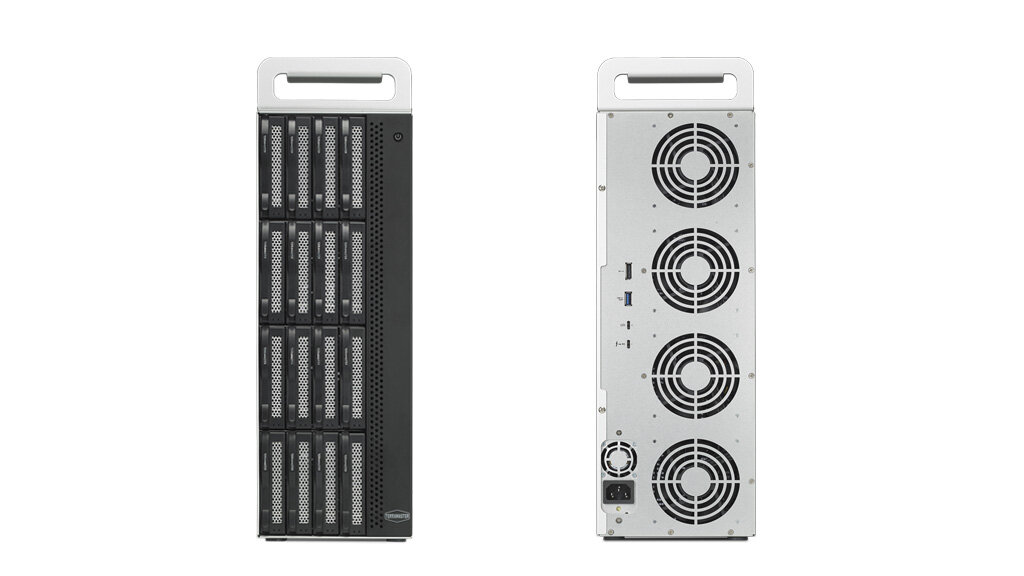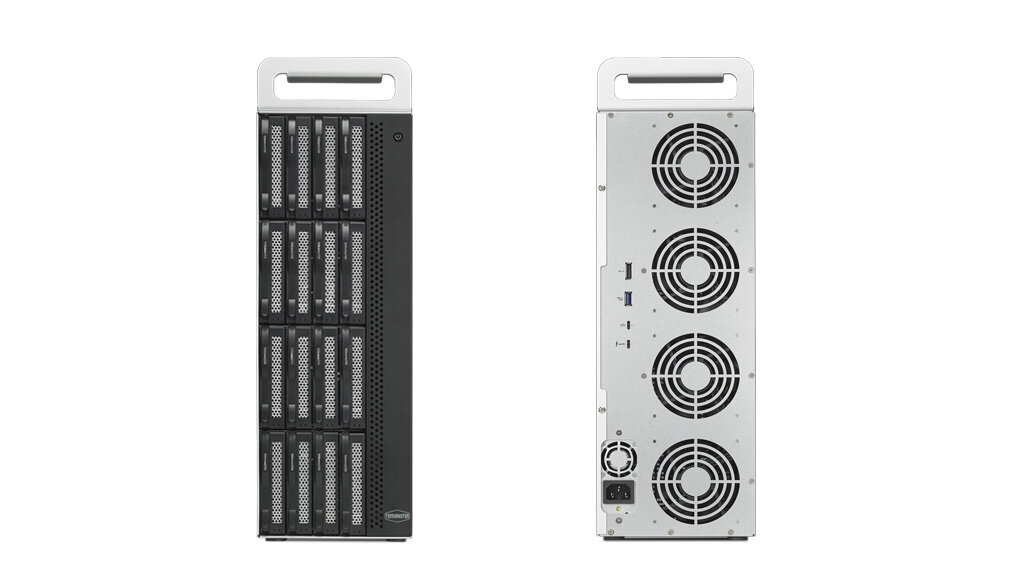 Aluminum housing with four fans
Like the smaller models, such as the TerraMaster D5 Thunderbolt 3 (test), the housing of the D16 Thunderbolt 3 is made of aluminum. Two aluminum handles make it easier to transport even the largest model in the series with dimensions of 348 × 160 × 498 mm. Four temperature-controlled 90 mm fans provide cooling for the controller and the drives. The internal power supply delivers a maximum of 550 watts and is cooled by its own small fan. TerraMaster indicates the power consumption when the D16 is fully equipped with 210 watts under load.