iPadOS 14.7 available: this is new
Apple recently released iOS 14.7. Normally iOS and iPadOS updates are released at the same time, but this time Apple has deviated from this. The reason for the delay of iPadOS 14.7 is not entirely clear. Anyway, the good news is that iPadOS 14.7 is now available and downloadable for your iPad. We'll walk you through the new features of iPadOS 14.7.
iPadOS 14.7 release notes
These are Apple's release notes:
iPadOS 14.7 includes the following improvements and bug fixes for your iPad:

The Home app has added the ability to manage timers on the HomePod
In the Podcasts Library you can now choose whether you want to see all programs or only watched programs
Menu option 'Share playlist' was missing from Apple Music
Playing Dolby Atmos and Lossless audio in Apple Music may have stopped unexpectedly
Braille displays could show invalid information when writing email
Audio could skip when using USB'C to 3.5mm headphone adapters with iPad

For more information about the security aspects of Apple software updates, please visit the following website:
https://support.apple.com/kb/HT201222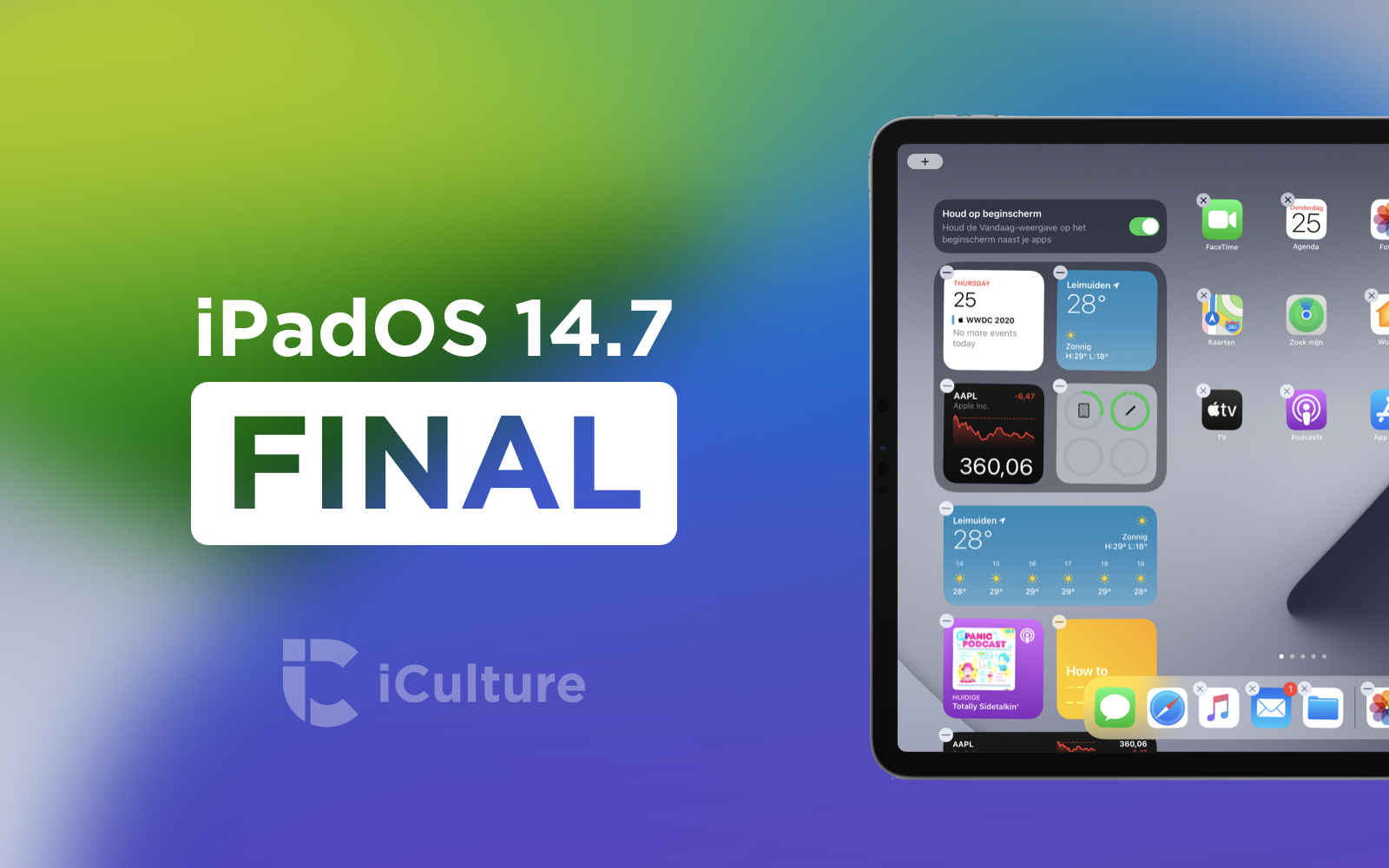 #1 Timers on HomePod via Home app
In iPadOS 14.7, you can manage the timers on the HomePod in the Home app. You can start a new timer, so without having to give a voice command. In addition, you can see all current timers running here, which can be useful to get an overview of all timers. This is a welcome addition, especially if you use the iPad in the kitchen. Just make sure the HomePod is also updated to HomePod software version 14.7.
#2 Air quality in the Maps app
The iPad still doesn't have a Weather app (not even in the upcoming iPadOS 15 update), but there's a way to check the air quality in a location in iPadOS 14.7 is. You can view the temperature and air quality of the place on the map that is currently in view in the Apple Maps app at the bottom right. If you hold down the button at the bottom right, you can see a little more about the temperature and air quality.
#3 Podcast: all programs or only those you follow
In the Podcasts app, you can filter your library for all programs or only the programs you follow. This comes in handy if you ever listen to an episode of a program that you don't necessarily have to follow closely, but want to know when there is something new. You will see the filter option automatically when you go to Library > Shows go, but only if you also have shows you don't follow.
#4 Bug fixes in Apple Music and more
Finally, Apple has also fixed some bugs in iPadOS 14.7. For example, there was an issue in Apple Music where Dolby Atmos and lossless audio versions of music suddenly stopped and the Share Playlist option was missing. Both bugs are now fixed. Also, invalid information could appear on braille displays when writing email messages.
Download iPadOS 14.7
To download iPadOS 14.7, do the following:
On your iPad, go to Settings > General > Software update. Wait for the update to appear.
Tap Download and install.
Wait for your device to reboot and the installation to complete.
< p>You can also update through iTunes or the Finder. To do this, connect your iPad to your Mac or PC with a cable and open iTunes or the Finder in macOS Catalina and newer. Click on your connected device and choose Search for update. The update will then be downloaded and then installed on your device.
Don't want to receive any more betas? Don't forget to unsubscribe from the beta program if you no longer want to run beta.
Note: keep the reactions on-topic, concrete and clear for others. Personal status updates as to whether your download has started/success does not add anything to the discussion. It may also take a little longer before the update is visible. You don't have to report this either. These comments will be deleted.