Published July 22, 2021 at 13:59
Domestic. When left-wing extremist Joel Bjurströmer Almgren was released on parole in 2012, the Swedish Prison and Probation Service appointed the criminal AFA veteran Ates Ramiz Sengüler as a supervisor, Expressen reveals. Now Fria Tider can reveal that the duo then beat a group of young people in Stockholm – and how the Swedish Prison and Probation Service's supervisor beat down a teenage girl while Almgren chased a young boy with a knife.
Like the article p & aring; Facebook
Free Times reveals
Stina Wollter sexually harassed by afghan
It was Mona Sahlin's daughter that Hunter Biden branded racist
She led the Islamic State Women's Brigade in Syria – now Fatin, 33, receives protected identity and grants in Sweden
Kicked from MP for political extremism – is now a weapons officer at the police
SD stops deportation of high school Afghan who raped 12 -year-old girl
Show all
On May 24, 2013, a 16-year-old girl was brutally beaten when a group of adult, knife-wielding left-wing extremists attacked young people in Tantolunden in Stockholm.
Fria Tider wrote about the incident in a high-profile article the following year. On the police reconnaissance video, you could see how Joel Bjurströmer Almgren chased a young boy with a knife while his partner Ates Ramiz Sengüler hit a blonde girl with a fist in the face.
"One of the guys in the gang beats a girl with "Fist tied straight in the face so that the girl went to the hill. Several people attacked a guy and hit him and continued to kick his head when he lay down", the police write in a memorandum from the incident.
In the final stages of the fight, Joel Bjurströmer Almgren tears open a knife, unfolds the blade and starts chasing a 19-year-old man with the knife in full swing.
– I ran for my life, the young man says in interrogation. < The year before, the Swedish Prison and Probation Service has appointed the man who beat down the girl, Ates Ramiz Sengüler, as assistant supervisor for Joel Bjurströmer Almgren during his conditional release from a prison sentence for assault, unlawful threats and aggravated weapon crime.
Assistant supervisors must be persons of good judgment who are involved in rehabilitating the convicted person and helping him to leave his criminal path. But the probation service allows gang members and lifestyle criminals to have friends as assistant supervisors and more than one in five assistant supervisors is punished for crimes, according to Expressen, which obtained the information from Acta Publica.
Acta Publica is an ironically run company by a third left-wing extremist convicted of crime, Martin Fredriksson from the Research Group. That Fredriksson is in control of Joel Bjurströmer Almgren is not so strange, as he and Almgren were detained in the early 2000s and later prosecuted and acquitted of a murder fire against McDonalds in Linköping. Fria Tider published a comprehensive review of Fredriksson and the Research Group in 2013.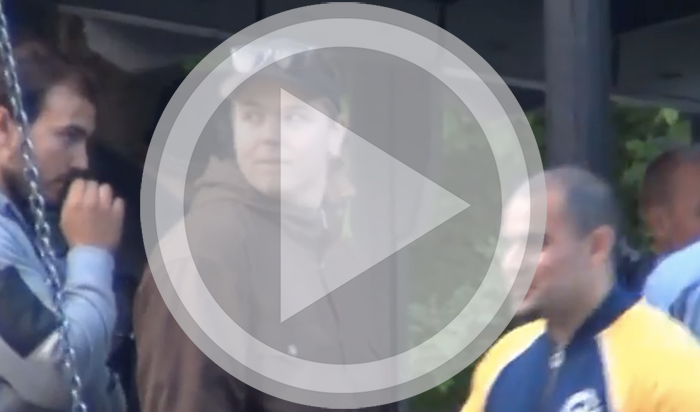 PLUS VIDEO On the police reconnaissance film you can see how a large group of Afa- activists plan the knife attack on the young people in the park. Several well-known left-wing extremist faces appear in the videos.