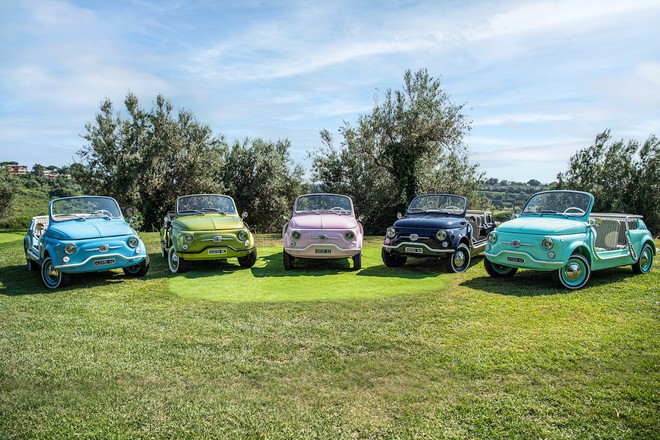 In Italy the Fiat 500e & egrave; a sales success in the electric car sector, but for those who prefer a little solution more exclusive, summery and with a marked vintage flavor without giving up the advantages of mobility; zero emissions there is Garage Italia Customs with the 500 Jolly Icon-e the company & agrave; founded by Lapo Elkann has carried out this project in collaboration with the car rental giant Hertz gi & agrave; two years ago, and today five new colors arriveto expand the fleet. Simplifying in an exaggerated way, we can say that these are examples of the glorious 500 Ghia Jolly beaches released between the 50s and 60s, restored to perfection and equipped with an electric motor.
Delving a little deeper the details of the project, Garage Italia says it has completed this project keeping in mind recycling and respect for the environment. The starting point is; actually a standard 500 , to which the roof and doors are removed. To compensate for the rigidity; a new safety cell intervenes on the body. Protectors and bumpers are hand molded. Compared to the original model developed by Ghia, one big difference is; the reinforcement structure of the windscreen, which is kept here in its entirety to ensure greater safety. The front and rear light clusters remain original, but the front bulbs are LED.
The engine is; was developed in collaboration with Newtron Group. The exact details of the engine are unknown, but Hertz says autonomy is of maximum 120 km, and the battery recharges between 4 and 8 hours . The taking & egrave; type 2 (guide to all standards), and & egrave; hidden under the FIAT logo on the front, between the two headlights. The new propulsion system has resulted in the adoption of a fully digital instrument panel, with a round 5 '' display. about in diameter; transmission now & egrave; fully automatic, with all button controls on the central tunnel. The gear lever & egrave; has been revisited, and now serves to select the two gaits (eloquently represented by the icons of a hare and a turtle).
Hertz had initially commissioned three units & agrave; of the car as part of the prestigious and luxurious Selezione Italia initiative: one in the classic blue color that made the original model an icon, one in yellow with black interiors following the Hertz branding itself, and one in the same colors as the Italian flag, even if arranged horizontally (with green above, as opposed to the Hungarian flag which has red above). Today, arrive:
Turquoise Water
Sky Blue
Blue Mediterranean
Rosa Budelli
Verdello di Sicilia
View this post on Instagram
All units & agrave; they have been re-tested and approved for road use; to know prices and details & egrave; need to call the number indicated at the bottom of the page that opens by following the SOURCE link after the video.
Best Hardware at a low price? Little X3 Pro, buy it at the best price from Amazon at 207 euros .