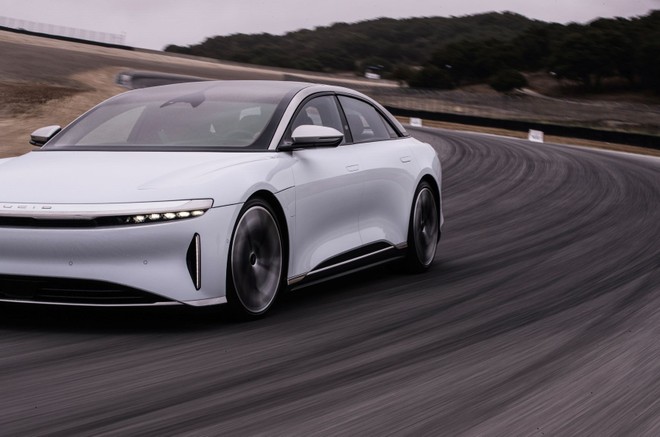 With the increase in electric and hybrid models on the market, the need for specific tires is also growing for these cars. Pirelli recently presented its first tire with a high load index and marked with the words & ldquo; HL & rdquo; (high load) on the side, specially designed for electric or hybrid cars and SUVs . This product is was developed specifically to support the weight of new vehicles equipped with batteries, favoring low rolling resistance and high driving comfort.
According to what was communicated, the new Pirelli tire is; able to support a ground weight greater than 20% compared to a standard tire and between 6% and 9% compared to an XL tire of the same size.
CHOSEN BY LUCID AIR


The new electric Lucid Air will be & agrave; the first electric car to have these new tires. The sedan at the front monter & agrave; i P ZERO in size HL 245/35R21 99 Y XL and at the rear in size HL 265/35R21 103 Y XL. According to the Perfect Fit strategy by Pirelli, these tires were developed together with the American car manufacturer so that they can offer all the characteristics necessary for electric. In addition, they will have the LM1 marking on the shoulder to identify the specific design for the American brand.
These new tires with high load index for electric and hybrid, have Pirelli Elect and PNCS technologies. . The first allows to offer a low rolling resistance to increase autonomy, a low rolling noise to maximize comfort and a compound to give immediate grip to respond to the stresses of the transmission in the starting phase, together with a structure suitable to support. the weight of the battery pack.
The second, on the other hand, allows to dampen the vibrations of the air that would otherwise be transmitted inside the vehicle with a consequent reduction of the noise generated by the rolling of the tires. This is serious; possible thanks to a particular sound-absorbing material placed in the cavity; of the tire.
108MP at the best price? Realme 8 Pro, buy it at the best price from ePrice at 238 euros .