FaceTime in iOS 15: These Improvements Are Coming
FaceTime has been around for 11 years, and over the years Apple has occasionally added new features. But with the new FaceTime features in iOS 15, Apple has one of its biggest updates ready in years. It doesn't matter how or what you use FaceTime for, because there is something useful for everyone. Apple improves the audio, video and gives you many options for sharing content via FaceTime.
Android and Windows
FaceTime Links

li>

SharePlay
Spatial audio
Portrait mode
Microphone
Grid View
Calendar Integration
Mute Alert
Zoom in
#1 FaceTime on Android and Windows
Eleven years after the introduction of FaceTime, the video calling service is no longer exclusive: FaceTime is coming to Android and Windows! Not via an app, but via the web. You can participate in a FaceTime call on any device with a current web browser. As an Android or Windows user, you cannot start a conversation yourself, but only participate if someone invites you to do so. It works with één on één conversations as well as for group conversations up to 32 participants. All you need is a browser, a microphone and a camera: you don't have to log in with personal data.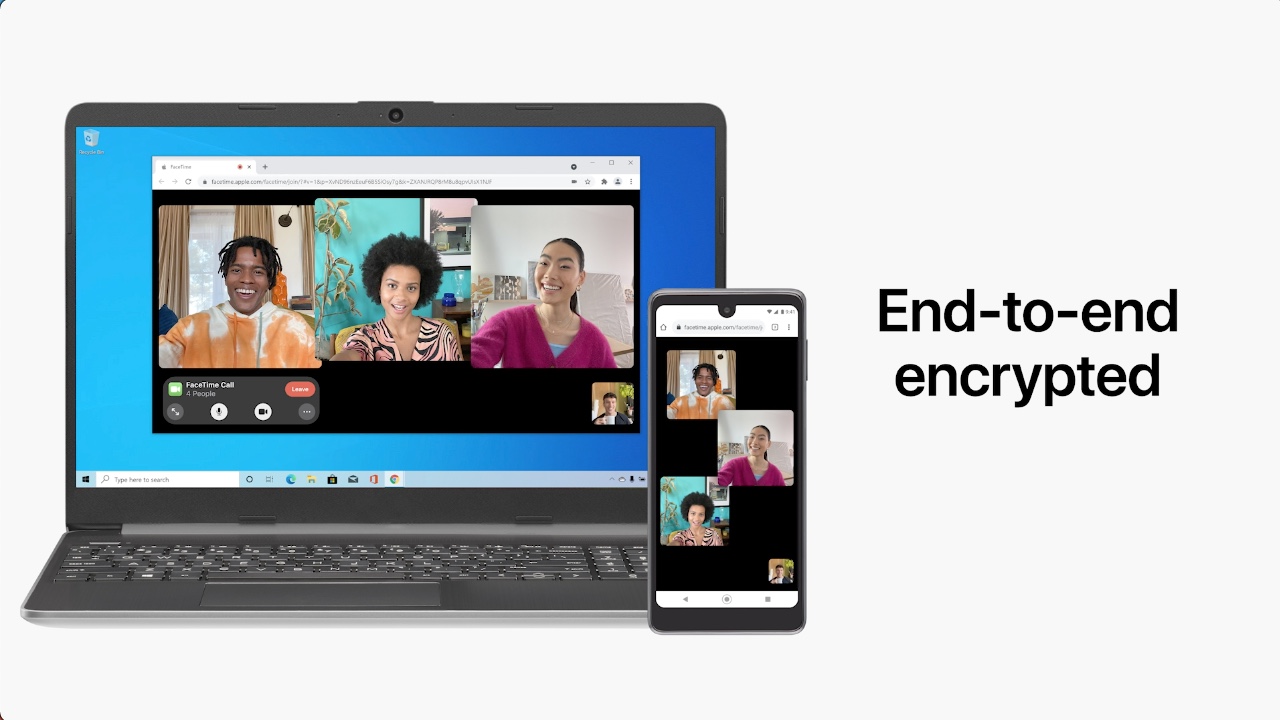 #2 FaceTime links for easier invite
Also for: iPadOS 15, macOS Monterey
Inviting an Android or Windows user works via FaceTime links, a new feature in iOS 15. By creating a FaceTime link from the app, you only need to but to share in, for example, WhatsApp, an email or via AirDrop. Sharing a link can be useful in several situations, for example if you don't have everyone's phone number or email address for a group conversation.
#3 SharePlay: Share everything via FaceTime
Also for: iPadOS 15, macOS Monterey
One of the bigger improvements in FaceTime is the arrival of SharePlay. With SharePlay, as the name suggests, you can share everything via FaceTime. With SharePlay, for example, you can share a movie or TV series to watch together, play a music album to listen to it together or share your screen if someone needs your help. When sharing movies, series and music, everything is played synchronously, so when one pauses, the other sees it too. When listening to music, anyone can add songs to the queue. SharePlay even works with Apple TV, so you can share movies and series on the big screen via FaceTime.
Movie sharing requires support for streaming services. Disney+ has already promised to support the feature. Unfortunately, nothing is known for Netflix yet.
#4 FaceTime in Spatial audio
Requirements: iPhone XS and newer
Also for: iPadOS 15 (iPad Air 2019, iPad mini 2019, iPad 2020 and newer), macOS Monterey (2018 and newer models)
Spatial audio can be found in more and more places. You may already know it in films and series with the AirPods Pro and AirPods Max, but recently also in Apple Music via Dolby Atmos. In iOS 15, Spatial audio also comes to FaceTime, bringing the voices of your interlocutors from the direction they are also on your screen. This is especially useful during a group conversation, where someone is on the left or right, for example. The direction of the audio then matches, just like in real life.
#5 Portrait mode: Blurs the background
Requirements: iPhone XS and newer
Also for: iPadOS 15 (iPad Air 2019, iPad mini 2019, iPad 2020 and newer), macOS Monterey (models with M1 chip)
You may know it: you look for a good spot in the house for a FaceTime conversation, where the background is not too big clutter. In iOS 15 this is no longer necessary, because you can blur the background on the newer models. This works on all iPhones with an A12 chip and newer. It's similar to portrait mode for photos, but for video conversations in FaceTime. It is not possible to choose a different virtual background as in Zoom, but this makes FaceTime calls less distracting.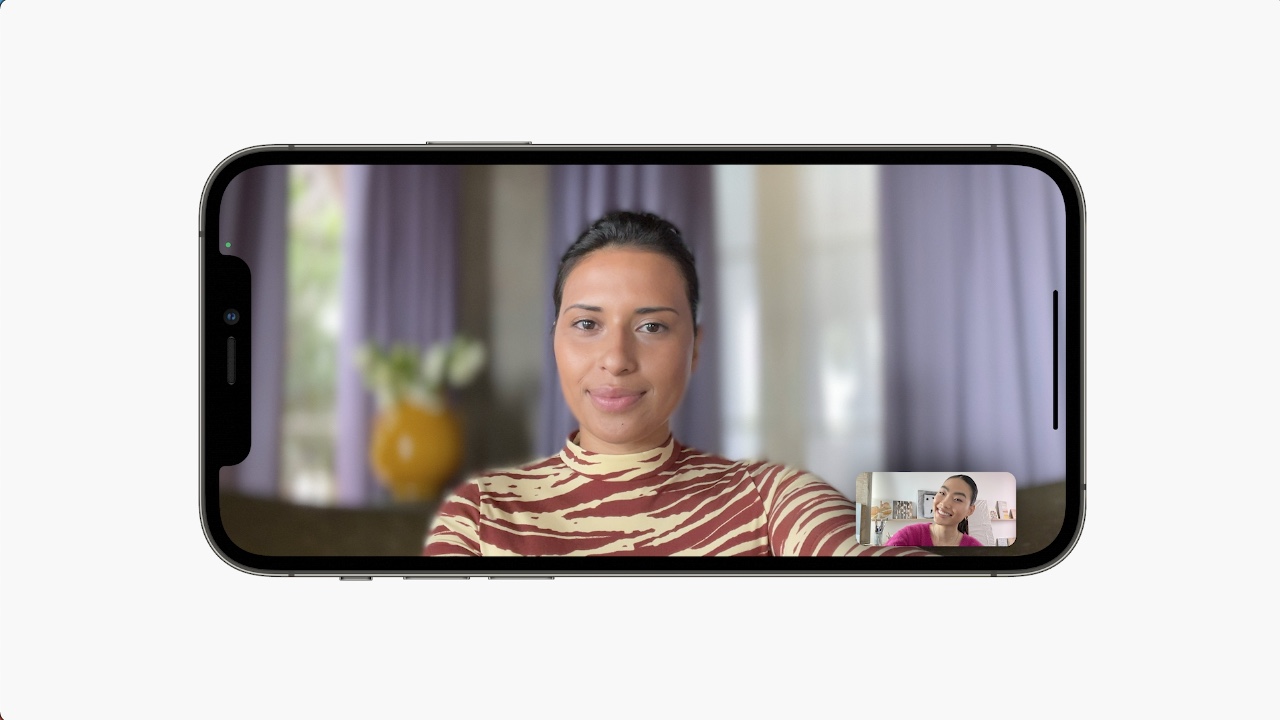 #6 Microphone Enhancements
Also for: iPadOS 15, macOS Monterey
In iOS 15, FaceTime also sounds a lot better, as two new microphone features are added. There will be a voice isolation mode, where the focus is purely on your voice. This is especially useful if there is a lot of ambient noise, which may make it more difficult to understand you. Think of a vacuuming roommate or a drilling neighbor. With the Wide Spectrum mode you do exactly the opposite: the microphone also picks up more of the ambient noise, which comes in handy if you want to let your conversation partner hear something in your environment. Think of playing music in your room.
#7 Grid view for groups
Also for: iPadOS 15, macOS Monterey
You can choose from two different views in FaceTime groups. Normally participants appear in squares that change size based on who is speaking, but you can also choose a grid view in the settings. Everyone then appears in equal-sized tiles, with the speaker marked by a white outline. It's similar to the current setting that allows you to disable zooming during FaceTime calls.
#8 Calendar Integration
Also for: iPadOS 15, macOS Monterey< br>When making a calendar appointment in the standard Calendar app, you can now also schedule a FaceTime call in addition to a location. This is useful if you're using a shared calendar or sending someone an invite to the event. Anyone who has the appointment in their calendar can then immediately join the FaceTime call. In fact, you create a FaceTime link through this integration, so you don't have to do it manually.

< img src="/wp-content/uploads/2bdae8dbc3c2f282905b7024576e5c11.jpg" />
#9 Mute warning
Sometimes you have to switch off your microphone during a FaceTime call, for example if someone in the house says something to you that is not intended for your conversation partner. But it can happen that you accidentally forget to turn your microphone back on, while you are just telling a very important story. FaceTime in iOS 15 now warns you if you're talking while your microphone is muted. The warning appears at the top of the screen, with which you can turn your microphone back on with a tap on the notification.


#10 Zoom in with outer camera
Also for: iPadOS 15
Although many people mainly look at each other during a FaceTime call, sometimes you want to show something with the rear camera of your iPhone. In iOS 15, a button has been added to zoom in with the rear camera lens, so you can get a closer look at something further away. You don't have to hold the iPhone close to the object to clearly frame it, because a tap on the 2X button is enough.
More about iOS 15
iOS 15 is the big update for iPhone and iPod touch. If you want to know whether your iPhone is suitable for iOS 15, you will find the answer in our article. We expect the official iOS 15 release in September/October 2021. Find out what else was announced during the keynote in our WWDC 2021 recap!