For mental health there is the new Focus feature and on the Apple Watch the Breathing app has given way to Mindfulness. Everything else mainly happens in the Health app on your iPhone. There you will now find a few new functions, namely these:
#1 Walking stability
#2 Sharing health data with family and friends
#3 Notifications Share with others
#4 View health trends
#5 Share health trends via Messages
#6 COVID-19 vaccinations and test results
#1 More stable on your legs with Walking Stability
This feature requires an iPhone 8 or newer. With Walking Stability you can see how stable you are on your legs while walking. We look at your balance, stride length and more. You may be notified if your walking stability is very low, increasing the risk of falling. The app also contains exercises with which you can increase your walking stability. A video about this was shown during the WWDC 2021 keynote. We haven't been able to test it yet, but are curious if it also detects lurching when you've had too much to drink.

< img src="/wp-content/uploads/9ecc729288461ddf17a5c718fdbf35b1.jpg" />
#2 Share health data with family and friends
You may already be sharing workout data with friends so you can see if everyone is exercising regularly. In iOS 15, however, it goes a lot further: you can also share all kinds of other health data with friends and family. This could be, for example, a carer.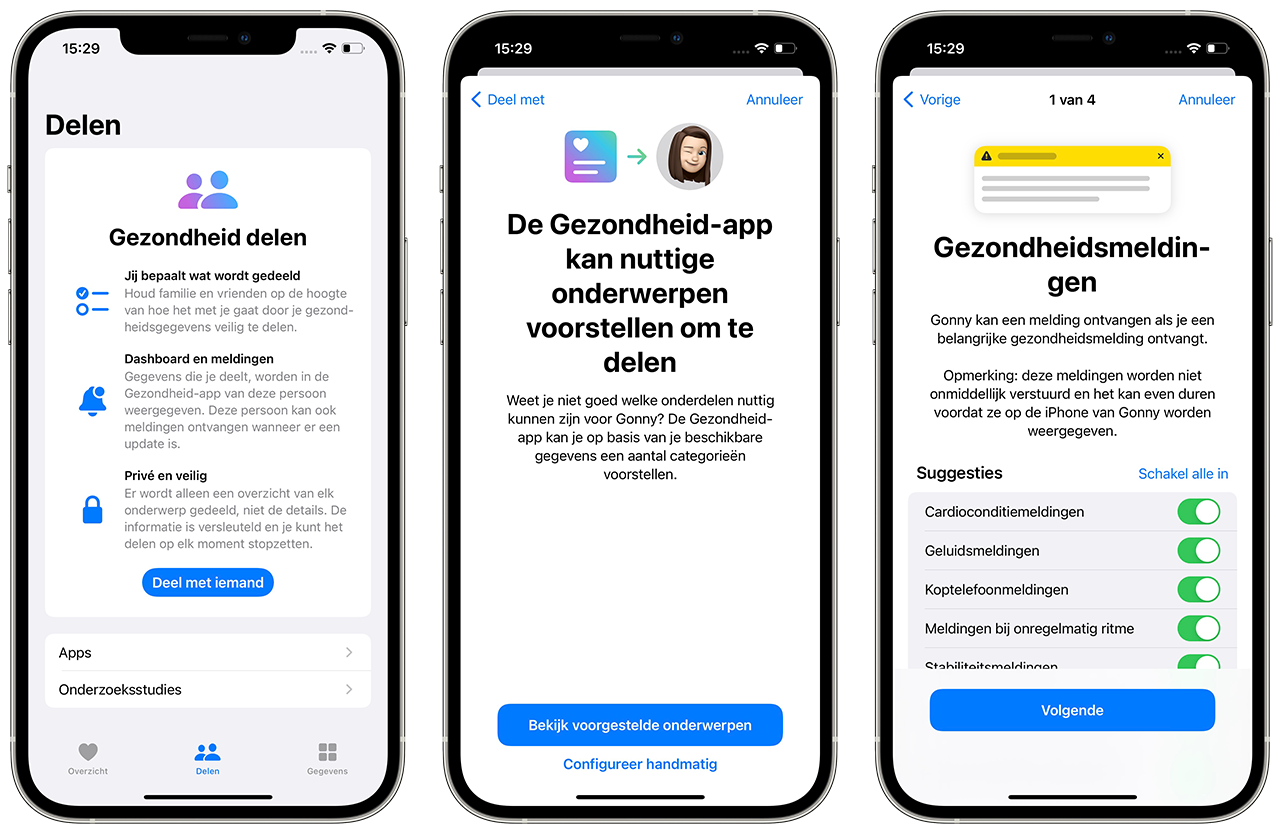 You decide which data you want to share, including heart health, activity and mobility. You can even share information about your cycle, for example if you want to get pregnant.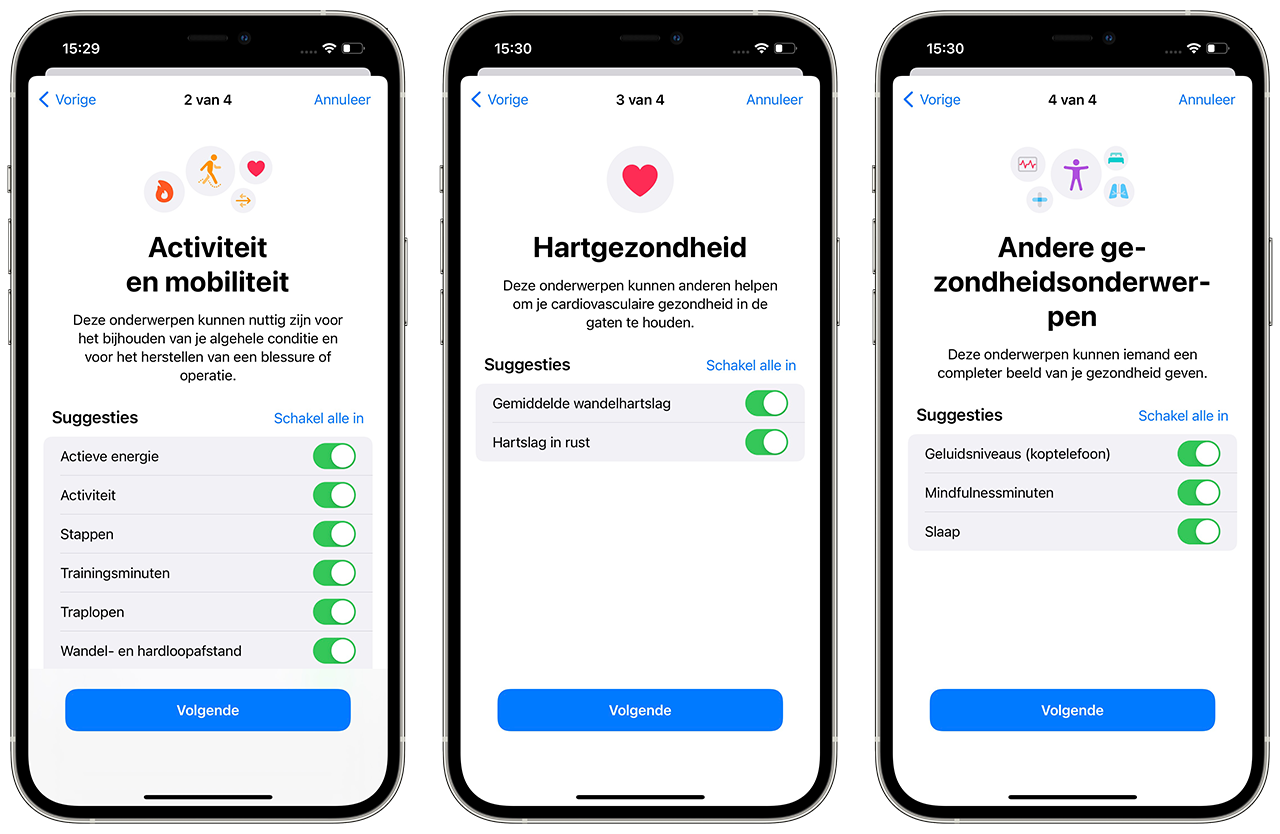 #3 Share notifications with others
You can't just share data, but also the notifications you receive about, for example, high heart rate, irregular heart rhythm and more. You can also receive a notification when there are large fluctuations, so that you are warned, for example, if someone suddenly shows much less activity.

#4 View health trends
You could always use the Health app see some stats around your workouts, sound levels, steps and more. In iOS 15, that becomes more extensive and you can see if everything is consistent. You can choose whether you want to receive notifications when trends change, for example in your walking stability.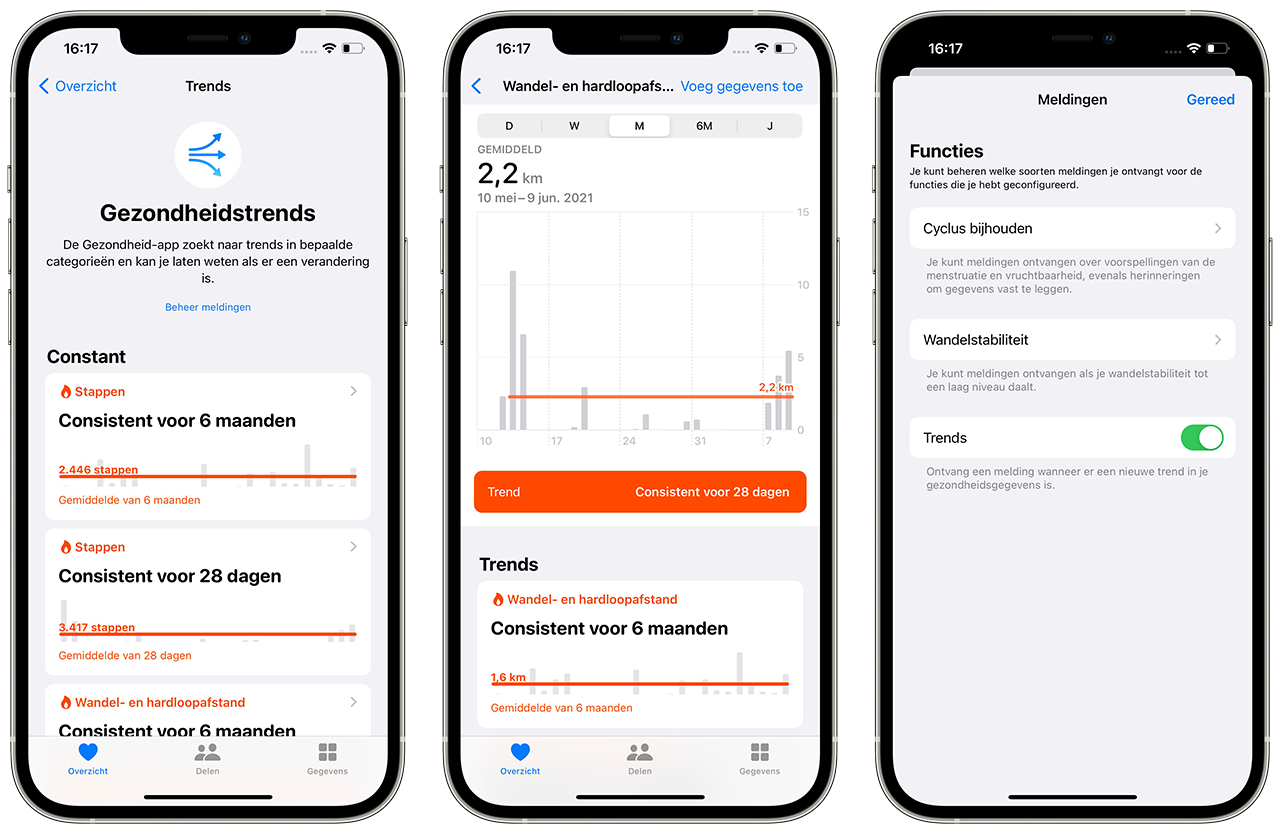 #5 Share Health Trends via Messages
You can edit your own data and trends endlessly, but you could also share the trends with others. This doesn't have to be a doctor: it could also simply be a friend who is a sports enthusiast or who understands health. For example, you can start a conversation or ask a friend for advice.
#6 COVID-19 vaccinations and test results
We haven't been able to find this feature in the Health app yet, but it might be in the future. To do this, you need to scan a QR code from a healthcare provider, after which you can securely store the vaccinations and test results for COVID-19 in the Health app. Most countries have come up with a different (digital) solution for this.
There are three other functions for your health, but they are only available in the US. This includes the following features:
Share data with a doctor or healthcare professional.
Improvements in lab results.
Interactive charts and highlights for you blood glucose.
More about iOS 15
iOS 15 is the major update for the iPhone and iPod touch. If you want to know whether your iPhone is suitable for iOS 15, you will find the answer in our article. We expect the official iOS 15 release in September/October 2021. Find out what else was announced during the keynote in our WWDC 2021 recap!