Ban your ex from the Memories
On the iPhone and iPad you get to see memories of the past in different ways. For example, you can set a photo widget that regularly offers you a selection of your most beautiful moments. Artificial intelligence is used to determine which photos form a nice scene. A photo of a happy couple in an amusement park has a better chance than a failed photo with faint stripes. It only gets painful if the photos show your ex-partner, or if that idyllic green spot is actually a cemetery. As of iOS 15, you can prevent that.
You get more control over the Memories in the Photos app, where you decide which people and locations can appear in the app and its widget.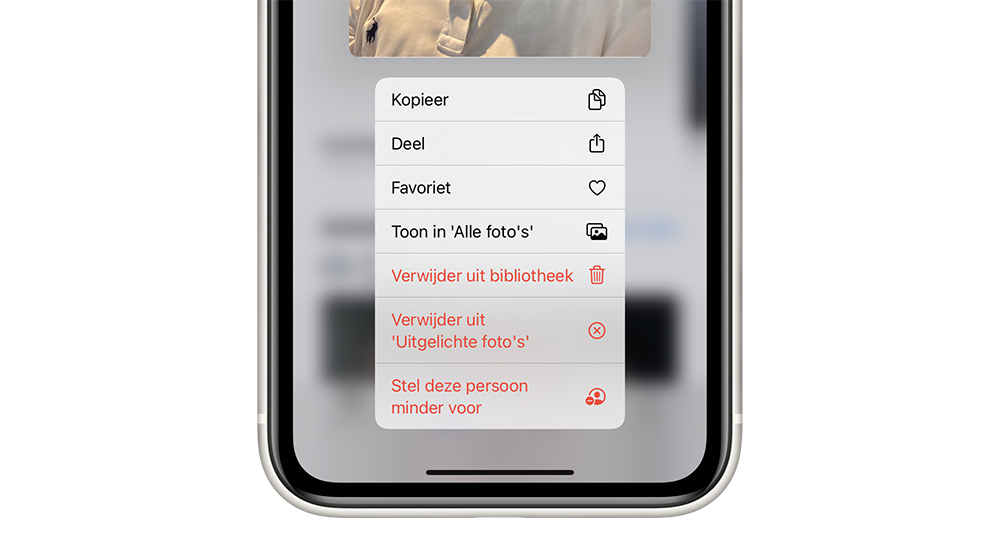 If you see a Retrospect that you don't like, you could always tap on the three dots and then on 'Suggest less retrospectives of this type'. You could also discard a retrospective or remove a photo from the photo suggestions.
However, from iOS 15 you can also indicate that you want to see a certain person less often. To do this, briefly press your finger on the photo and choose the option that you want to see the person less often. You can also indicate for a specific photo that you want to see it featured less often with the Introduce this person less option. Unfortunately, you can't completely banish it.
Why keep photos of your ex?
This can be useful with unwanted people, such as your ex. There can be all kinds of reasons why you still have photos of your ex on your device. Maybe because after a long relationship it is too much effort to delete all the photos, because you broke up without a fight or because you went to beautiful places together. You want to keep the photos of those places, but you don't want to have them pressed under your nose every day. The same goes for places, such as those times you visited a cemetery, concentration camp, or other memorial site. Nice photos, but not always uplifting to see.
The previously mentioned option for Memories that you don't like has been given a somewhat shorter name in iOS 15: it's now called 'Set Less for'.
More about iOS 15
iOS 15 is the major update for the iPhone and iPod touch. If you want to know whether your iPhone is suitable for iOS 15, you will find the answer in our article. We expect the official iOS 15 release in September/October 2021. Find out what else was announced during the keynote in our WWDC 2021 recap!