In the first quarter of the year, sales of wireless in-ear headphones increased by 44 percent compared to the same period last year, despite the global pandemic and economic consequences. China recorded the greatest growth, while the USA as a whole sold most of the devices.
63.5 million TWS in-ears were sold worldwide in the first quarter of this year. Overall, Apple continues to dominate the TWS market with the AirPods and AirPods Pro, but the market share fell slightly in the first quarter of 2021. On the one hand due to stronger competition, on the other hand due to the lack of a new model – new AirPods 3 will continue to be traded in the rumor mill for this year. Xiaomi, in second place worldwide in terms of sales, also had to accept slight losses in market share, while Samsung was able to narrow the gap to Xiaomi due to good sales figures in Asia and Europe and also gained market share thanks to massive marketing measures in connection with its own smartphones Counterpoint Research in a new study.
For TWS in-ears over 100 US dollars, Apple has a global market share of 57 percent, Samsung is clearly in second place in this area with 17 percent.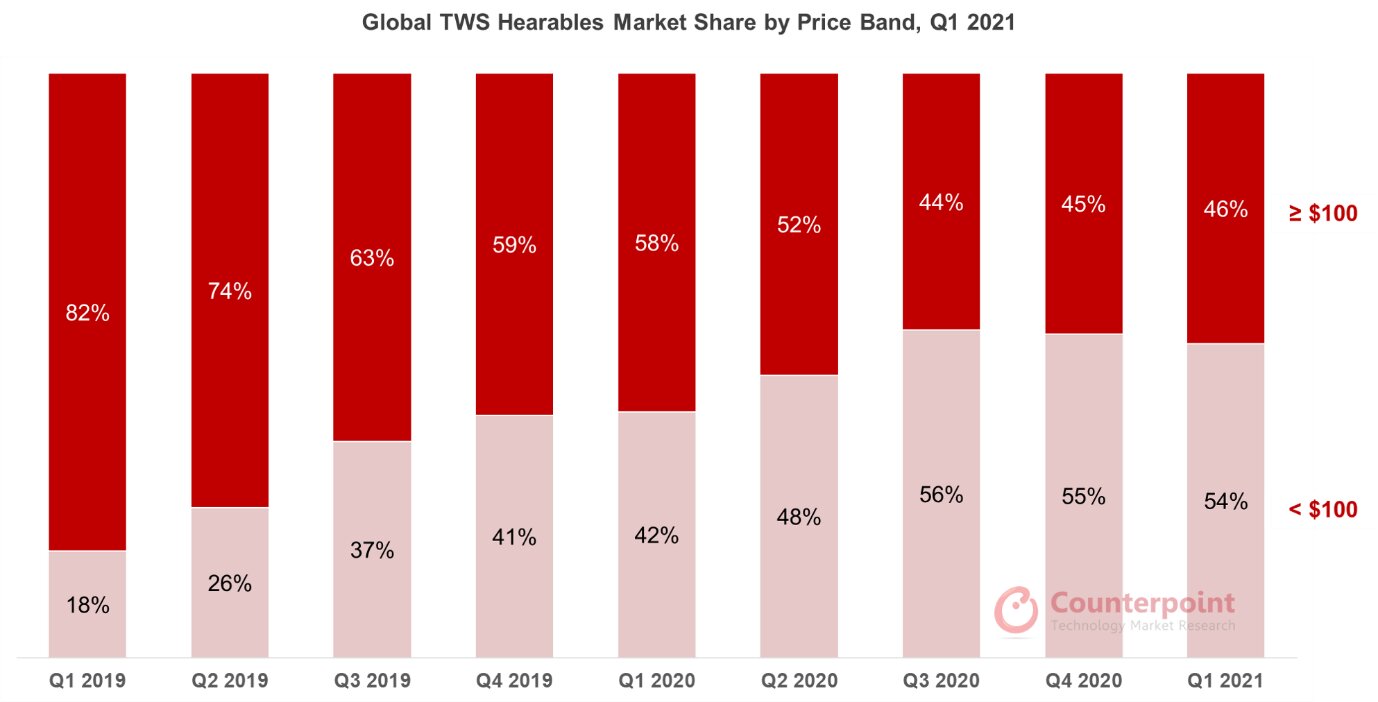 Only almost half are spending more than 100 USD
The development of the price range for wireless in-ear headphones is also interesting to which buyers resort. While 82 percent of all wireless in-ears purchased were more than 100 US dollars in the first quarter of 2019, this segment continuously lost shares to only 44 percent by the third quarter of 2020. The cheaper models under $ 100 increased accordingly from 18 percent to 56 percent. In the last two quarters, however, this trend has stopped, the more expensive models currently have a share of 46 percent.