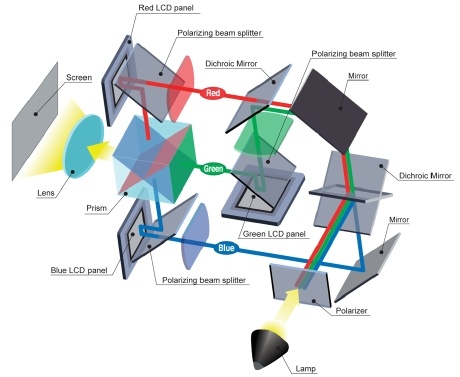 Epson and Panasonic would allegedly at the IFA trade show the first 3d projectors based on Epson's 3LCD Reflective technology show. The expectation is that the price of full hd 3d projectors under the $ 3000 can dive.
The current 3LCD Reflective projectors from Epson and Panasonic do not support 3d display, but at IFA and Cedia trade show in september would be the two manufacturers of the first 3d projectors on the basis of the new technology show, as it is to read in FullHD.gr. Probably, it is the active 3d-variant.
Last year's Epson projectors are based on the new 3LCD Reflective technology. In contrast to the older 3LCD Transmissive technology makes the newer technology is not use of transparent lcd's, but lcd's which reflect the light. Both systems use three microdisplays for the primary colors red, green and blue.
The 3LCD Reflective technology would have the advantage that a higher output is possible, while also having a higher contrast ratio is within reach. Furthermore, the 3LCD Reflective technology, consume less energy, would the reflective microdisplays offer faster switching, and is the distance between the pixels is smaller, making the so-called screen door effect less visible.
In addition to Epson, and Panasonic would also JVC and SIM2 new projectors to show the two elektronicabeurzen. The latter manufacturer would reportedly a projector to introduce a 21:9 picture to show without the use of an anamorphic lens.